Dir: David Yates. UK. 2011. 131mins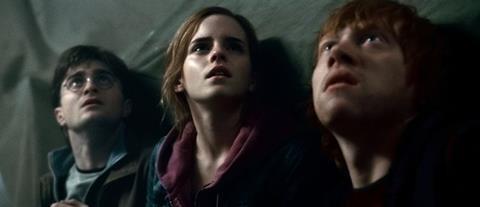 And so, after 10 years the Harry Potter saga finally comes to an end. Bowing out in 3D (the first in the series to be showed completely in that format), Harry Potter And The Deathly Hallows: Part 2 is a magnificently entertaining movie, brimming with energy and excitement and allowing just enough screen time for all the hefty cast to bid farewell to a character who has dominated family entertainment for a decade. It should also deliver substantial returns to the Warner Bros coffers as leads the way into the summer holiday movie viewing.
Director David Yates and screenwriter Steve Kloves seem to be in complete harmony as they wrap up subplots, give minor characters a time in the sun and head the lead characters into the final showdown.
If the first installment of Deathly Hallows was thoughtful and elegantly paced as it tackled the issues of the three main characters Harry, Ron and Hermione (Daniel Radcliffe, Rupert Grint and Emma Watson) on the threshold of adulthood and having to learn some harsh life lessons about life, love and loyalty, then Part 2 is all about the thrills, spills and action as Potter and pals head into their final showdown with the evil Lord Voldemort (Ralph Fiennes excelling in a blissfully evil role).
Seeing these three young actors – along with others who have punctuated the series of films – grow over the span of the saga has been one of the pleasures for audiences, so for many Pottermaniacs this conclusion will be a sad occasion. But after nearly 20 hours of movie time the screen adaptation of J.K. Rowling's fantastically successful fantasy series comes to an end…offering closure for some and probably leaving others simply wanting more.
The plot of Harry Potter And The Deathly Hallows: Part 2 (or HP7 Part 2 as some promotional material calls it) is relatively straightforward, despite the fact that much of the film is about tying up loose ends. Harry and his pals have to try and destroy the remaining Horcurxes (they destroyed three in the first film)…essentially the parts of Voldemort's soul that had been scattered around the wizarding world.
One of the early opening sequences sets the tone for the film – and makes good use of the 3D – as the gang infiltrate Gringott's wizarding bank in the search for one of the Horcruxes. Cue roller-coaster ride effects, splendid production design and a series of impressive special effects. There is even a dragon in there for good measure.
From then on it is just a matter of time before the long awaited to return to Hogwarts School and the final apocalyptic battle with the gathering evil hordes of Voldemort and his followers. If Part 1 was about inner turmoil and repressed emotions, then Part 2 is well and truly about wands, magic, evil beasties, explosions, battles and a final face-to-face showdown between Voldemort and Harry Potter.
In essence the story still follows the central threesome – Harry, Ron and Hermione – who have been the heart and soul of the film since the first film. Director David Yates and screenwriter Steve Kloves seem to be in complete harmony as they wrap up subplots, give minor characters a time in the sun and head the lead characters into the final showdown.
They may well be some on-screen debating about 'Horcruxes", and various other mystical items, but it is clear from the very start that this film is heading in only one direction…and that is back to Hogwarts for the final showdown. Importantly, this is no longer a cute school with amusing ghosts and wacky pictures…now it is a fortress, housing youngsters (and teachers) who have to make the tough decisions about which side they are on.
Delightfully, nerdy Neville Longbottom (Matthew Lewis) has grown into a bold young man and turns out to be one of the real heroes (and a hero in a sensible sweater in gloriously English style) of the battle of Hogwarts, and evenProfessor McGonagall (Maggie Smith finally gets a chance to show off her wizarding skills to great effect.
And thankfully the conniving Severus Snape (Alan Rickman) reveals his true colours at last thanks to an impressive flashback sequence which puts all of his past actions into context and – amazingly - allows a tear to be shed for this intriguing character.
The production design and special effects are terrific (especially when it comes to the battle of Hogwarts) and while there are moments when the 3D really shines through, there is a niggling suspicion that standard 2D would have offered a little more illumination to the dark (the battle is staged at night) scenes of conflict, though perhaps IMAX screenings offer an even greater sense of spectacle and drama.
Production companies: Heyday Films, Warner Bros
Producee: David Heyman, David Barron, J.K. Rowling
Executive producer: Lionel Wigram
Co-producers: John Trehy, Tim Lewis
Screenplay: Steve Kloves, based on the novel by J.K. Rowling
Cinematography: Eduardo Serra
Editor, Mark Day
Production designer: Stuart Craig
Music: Alexandre Desplat
Main cast: Daniel Radcliffe, Rupert Grint, Emma Watson, Ralph Fiennes, Alan Rickman, Helena Bonham Carter, Robbie Coltrane, Michael Gambon, John Hurt, Jason Isaacs, Kelly Macdonald, Gary Oldman, Maggie Smith, David Thewlis