Dir: Frédéric Sojcher. France-Belgium-Italy. 2010. 85mins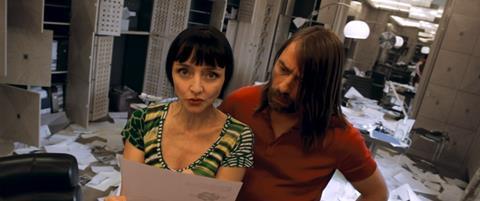 Hitler In Hollywood is an engaging and amusing mockumentary starring Portuguese actress Maria de Medeiros who finds herself caught up in a conspiracy linked to the Hollywood system – and America itself - working to suppress the European film industry.
Maria de Medeiros' charming and enthusiastic performance (plus a few in-jokes at the expense of her role in PulpFiction) that drives the film even when it starts to flag.
The film had its world premiere at the Karlovy Vary Film Festival, and if handled correctly could intrigue distributors (and certainly European television operations) as well as proving to be a popular title on the film festival circuit. But while enjoyable, it also misses opportunities and can't quite find that balance between spoof conspiracy tale and satire on the film business.
A series of well-known movie industry types – mainly French – enter into proceedings with gusto, though it is Maria de Medeiros' charming and enthusiastic performance (plus a few in-jokes at the expense of her role in Pulp Fiction) that drives the film even when it starts to flag. She is a pocket dynamo of commitment to the project, and certainly deserves attention.
The film opens with Maria de Medeiros purportedly making a documentary about veteran film star Micheline Presle (naturally playing herself), whose career began in the 1930s. She discusses the various directors she worked with, but remembers most fondly Luis Aramacheck, with whom she made a film in 1939 called I Don't Love You (the title prompts a series of clumsy jokes) that was never released.
Maria de Medeiros, her cameraman (Wim Willaert who, naturally, is in love with de Medeoros) and various researchers set out to find the film, but as part of their research unearth another film called Hitler In Hollywood, linking the Nazi leader to the Hollywood system. This cues up a hunt for both films that takes Maria de Medeiros to Cannes, Berlin, Venice and London (where she pops into M15), and also points to a conspiracy that still might cause danger for her and her film crew. Her trail finally leads her to Malta, where an elderly Aramacheck reveals the truth behind the conspiracy.
As usual with mock-docs there is plenty of playful interplay between crew, interviewees and locations, and the expected amount of hand-hand camerawork as they run from various folk trying to stop them. Director Frédéric Sojcher cleverly uses various camera tricks (having some characters in colour and other not) to keep proceedings interesting.
Delightful moments include French director Tonie Marshall (the real-life daughter of Micheline Presle) gamely entering into proceedings and having wine thrown into her face as part of her role, while a tribute gathering in Cannes to Micheline Presle offers the chance for a series of cameos from a French directors, stars and critics. The film closes with various filmmakers explaining the death of a European film industry – with Wim Wenders especially eloquent – while the final scene sees Maria de Medeiros embracing Portuguese filmmaking legend Manoel de Oliveira, to whom the film is dedicated.
Production company: Saga Film, Polaris Film Production & Finance, Motion Investment Group, Intelfilm
International sales: Saga Film, www.saga-films.com
Producers: Hubert Tolnt, Jean-Jacques Neira, Christophe Mazodier, Mario Mazzarotto
Executive producer: Christopher Granier-Deferre
Screenplay: Renaud Andris, Lionel Samain
Cinematography: Carlo Varini
Editor: Ewin Ryckaert
Production designer: Frederic Delrue, Francoise Joset
Music: Vladimir Cosma
Main cast: Maria de Medeiros, Micheline Presle, Wim Willaert, Hans Meyer, Nathalie Baye, Arielle Dombasie