Dir: Sergei Loznitsa. Germany-Latvia/Russia/Dutch/Belarus. 2012. 128mins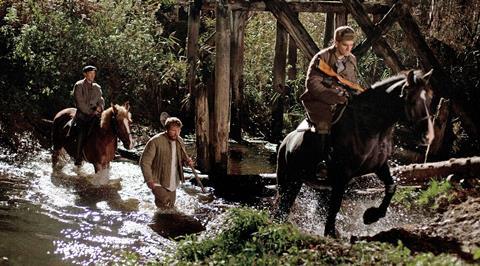 In The Fog is a carefully-calebrated three-hander from Sergei Loznitsa, its slow, precise rhythms playing out to compelling effect. His second feature after My Joy is a beautifully rigorous piece which will delight cineastes, his collaboration with cinematographer Oleg Mutu (who has also shot another Cannes Competition favourite, Beyond The Hills) moving up a notch to the point where the film's visuals are palpably in sync with its protagonists and some notably effective sound design.
It's Loznitsa's intellectual approach and his technical team's interpretation that mark In The Fog out.
Sparse and cerebral, a war film without a battle, In The Fog would benefit greatly in the marketplace from the Palme D'Or it must surely be in contention for. Without awards, its austere and almost forbidding outlook will struggle to hook commercial audiences, but Loznitsa is quickly gaining an international following having made the leap to features after almost 15 years spent shooting documentaries across the former USSR. In The Fog is more streamlined than My Joy and festivals will jump at the chance to programme it. And where they lead, the arthouse should follow.
In The Fog is adapted from a late novel of the same name by Vasil Bykov, the renowned Belorussian writer whose wartime experiences formed the basis of much of his work. Loznitsa, a mathematician by training, calibrates Bykov's story into another wheeling film to follow My Joy, its continuous yet more restrained movement involving three protagonists who circle each other, a village, and, ultimately, the truth. But the wheel spins for Mother Russia as well - a sadistic villager now in bed with the Germans was just as much of a bastard for the Soviets, one character points out, and, probably, he will be again.
Loznitsa's noble protagonist is a doomed fatalist, undone as much by the events that conspire against him as by his own unshakeable moral rigor. He is Sushenya (Svirski), taken from his family in the middle of the night by Burov (Abashin), a partizan fighter in the Western edges of the USSR in 1942. Burov and his sidekick Voitik (Kolesov) are hiding out in the hills and forests, waging guerilla warfare against the occupying German army.
Instead of Belarus, Loznitsa shot In The Fog in neighbouring eastern Latvia, finding here the right, unspoiled forests for his purposes. Working with (Russian-speaking) cinematographer Mutu for the second time, they decided to film every scene in one shot, although there is very little handheld here (according to the press notes, the 128-minute film was assembled from a remarkable 72 cuts).
Right from the outset, after Burov wades through the swampy woods to arrive at Sushenya's house, Loznitsa's screen bristles with tension. There is no score to In The Fog; the dialogue inside takes place to the taut sounds of the cracking log cabin. It becomes clear that Burov and Sushenya know each other, and that Burov is taking Sushenya away in the night, most probably to kill him. Sushenya asks: "Should I bring my own shovel?".
Loznitsa's deliberate colour design as expressed by Mutu's camera turn the forest night into silvery blues and grey-greens, by day it trembles in the yellow light. And - very - slowly the director shows his hand, revealing that Sushenya is the only one of four captured partizans who has improbably been allowed to live by the occupying Germans. With the village and even his wife turned against him as a collaborator, Sushenya is a classic Russian fatalist who accepts what must happen next, until the Germans suddenly appear and he is - perhaps - given a second chance.
Burov and Voitik are awarded less screen time than Sushenya - in particular Voitik - but their stories gradually deepen the film's reach, in particular Voitik's moral ambivalence that proves a growing counterpoint to Sushenya's weighty dignity. All three principals look right for their roles, and Abashin makes a particular impression as perhaps the most difficult character. Vlad Ivanov (4 Months, 3 Weeks, 2 Days) contributes a cameo as a Nazi.
It's Loznitsa's intellectual approach and his technical team's interpretation that mark In The Fog out, however. Of note is Kirill Shuvalov's design and in particular Vladimir Golovnitski's reamarkable sound work. With no score, he underscores the film's stillness at just the right level, whether it be the distant sound of wolves or the simple noises of the forest, all perfectly stressed. Coupled with Loznitsa's slow pacing, this all may admittedly prove initially too rich for wider audiences, but this very Russian tragedy is a jewel which will surely only burnish with time.
Production company: ma.ja.de fiction
International sales: The Match Factory, www.the-match-factory.com
Producer: Heino Deckert
Screenplay: Sergei Loznitsa, based on the novel by Vasil Bykov
Cinematography: Oleg Mutu
Production designer: Kirill Shuvalov
Editor: Danielius Kokanauskis
Main cast: Vladimir Svirski, Vlad Abashin, Sergei Kolesov, Vlad Ivanov