Dir/scr: David Trueba. Spain. 2011. 100 mins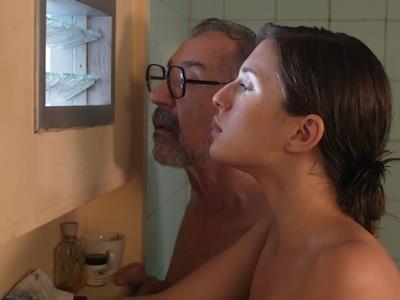 Madrid 1987 is a claustrophobic two-hander between an acerbic Spanish writer and his young acolyte which could perhaps work as a play, despite the fact that it was apparently written for the cinema. It is, in fact, hard to think of a movie less cinematic than Madrid 1987, with the sharp-tongued newspaper columnist and his mostly-silent partner confined to a tiny bathroom for the most part.
Future exploitation in stage format cannot be ruled out.
Jose Sacristan is one of Spain's greatest actors and he skillfully attacks this difficult part, written by David Trueba with undoubted care. But this lecherous old newspaper columnist just never shuts up, heaping verbiage on the viewer and firing out aphorisms at the audience like soggy pellets. "I only talk about myself, even when I talk about other people," he advertises near the start and proceeds to prove himself depressingly true over 100 minutes, which is long enough for a film with sets, let alone one that is set mostly around a toilet.
In this movie about age and desire, Sacristan plays the older academic Miguel, a newspaper columnist of 25 years standing and a popular novelist of some fame in Spain, to young Maria Valverde's hesitant journalism student Angela (he wonders of her course, "how do you teach a dog to be a dog?"). He meets her for a coffee in the restaurant he uses for an office, propositions her like a randy old dog himself, and they head back to his artist friend's empty apartment before becoming stuck in said bathroom.
Artistically, green tiles hog the limelight here as Sacristan's sunken pensioner's chest exhales his bon mots. On films: "Music is like a traffic light for audiences," he opines. Alcohol: a friend of his "drinks like a British person - for them it's a job, not a hobby."
On and on and on, to her mostly passive response. When she finally rouses herself into a monologue at around the 90-minute mark, Valverde proves herself and her character to be perhaps the most interesting part of Madrid 1987 but by then it's far too late - the combination of Sacristan's yakking pseud and the '80s era bathroom is enough to make Das Boot feel like it was shot in the open air.
Trueba, younger brother of Fernando and director/writer of Soldados de Salamina, works with an almost completely female cast here and while it's possible that the undeniable allure of Sacristan may see this open in Spain, it is not an international prospect. Future exploitation in stage format cannot be ruled out.
Production company: Buenavida Productions
International sales: 6 Sales, www.6sales.com
Producer: Jessica Huppert Berman
Cinematography: Leonor Rodriguez
Production designer: Laura Renau
Editor: Marta Velasco
Main cast: Jose Sacristan, Maria Valgerde, Ramon Fontsere