Dir: Richard Goldgewicht. US. 2012. 103mins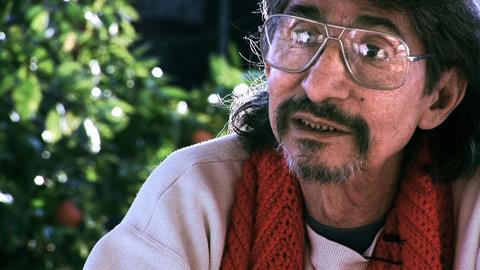 A wonderful delve into the life and talent of the renowned film title designer, artist, trailer maker and full-on bohemian Pablo Ferro, this enthralling documentary is a must for any lover of cinema and is likely to spark retrospectives and tributes at cinematheques around the world.
Pablo is a beautifully designed documentary.
An astute and entertaining blend of interviews, extracts and animation, Richard Goldgewicht's film is – appropriately – delightfully designed and quite brilliantly narrated by Jeff Bridges, who brings a suitable Dude's sensibility to the story of a man who embraced Hippydom and all that entails.
With contributions from the likes of George Segal, Beau Bridges, Jon Voight, Andy Garcia and Anjelica Huston, the film is a wonderful celebration of Pablo Ferro's work – on film such as Dr Strangelove, Stop Making Sense, Midnight Cowboy, Bullitt, The Thomas Crown Affair and A Clockwork Orange – and should be a source of inspiration for those who see it.
Ferro was born in Cuba in 1935, and moved with his family to the US in 1947. After finding work as an usher at a cinema, he dabbled in art and was asked to design some promotional material to help drive in audiences. After working as an artist for Stan Lee at Marvel Comics he moved into advertising, and created early adverts for television.
Summoned by Stanley Kubrick to devise a trailer and credits sequence for Dr Strangelove, which led to a long career working on Hollywood projects. Becoming best friends with the director Hal Ashby, the two embrace the Hippy lifestyle of the 1960s (the pair are beautifully animated), with Pablo's New York lost apartment a Bohemian party venue.
After being shot in the neck in a strange incident at his flat he found work drying up, and after selling his Los Angeles house he ended up living with his on and working out of his son's garage. Gradually being rediscovered, he is a modest man with nothing but fond memories for his career creating some of the most memorable title sequences in cinema.
He discusses with modesty how he created the multiple screen effects at the start of The Thomas Crown Affair and how Stanley Kubrick turned to him to create the staccato trailer for A Clockwork Orange. There are also contributions from his wife, children and former girlfriends who help deal with the darker aspects of life in the 1960s and his unconventional approach to fatherhood.
Jeff Bridges' narration is almost poetical at times, and is wonderfully balanced by quirky and engaging animation that helps link interviews and film footage. Pablo is a beautifully designed documentary that should be a regular at film festivals and also has the appeal to work theatrically as well as for broadcasters.
Production company: Goldstreet Films
International sales: Shoreline Entertainment, www.shorelineentertainment.com
Producer: Jeremy Goldscheider
Screenplay: Richard Goldgewicht, Neil Katcher, Adam Trunell
Character animation: Nurbanu Asena
Motion design: Luis Freddy Morales, Marcela Permodo, Juan Camilo Fonnegra
Editor: Richard Goldgewicht
Music: Lior Ron
Website: www.pablothemovie.com