Dir: Sebastian Cordero. Ecuador-Colombia. 2011. 95mins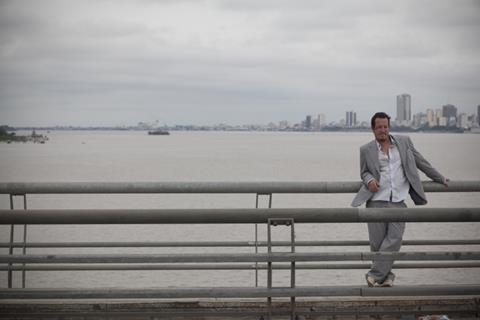 Sebastian Cordero follows up the Spain-set Rabia with Pescador, a deceptively jaunty drama-cum-roadtrip which unspools in his birthplace of Ecuador and should burnish his growing reputation. Art-house and festival exposure is likely for this tale of a 30-year-old loser who grabs his moment when a shipwreck washes up packets of cocaine on the beach of his tiny seaside village.
One of the surprises of Pescador is that much of it was shot hand-held.
Although Cordero's tempo perhaps lacks a strident-enough dramatic edge to give it a wider reach, this is a smartly-judged, - shot and -acted piece which calls to mind Y Tu Mama Tambien in parts - although Cordero never plays Pescadero for laughs, and resolutely denies his central character the opportunity to become the truly tragic figure viewers suspect.
One of the surprises of Pescador is that much of it was shot hand-held, using available light, as it has good depth and atmosphere. The screenplay, based loosely on a real story, was also apparently worked upon 'on the road' , yet has a confident looseness.
Pescador ("Fisherman" although the title is not being translated) starts out with a kick as Blanquito (Andres Crespo) hits the beach late for his fishing job one morning, only to take part in the discovery of a shipment of cocaine washed up upon the beach, packet after packet floating in on the tide.
The day goes on as normal, with Blanquito helping out his mother in her restaurant, visiting his girlfriend and a shopkeeper pal - it turns out he's the village errand boy, an oddly white-skinned bastard, although his mother has reluctantly claimed he's the son of a big politician.
Cuckolded by his girlfriend, he delivers some groceries to Don Elias's (Marcelo Aguirre) big house on the hill where he encounters the Colombian beauty Lorna (Maria Cecilia Sanchez). Blanquito senses a kindred spirit - she has also become stranded in the stilt down of El Matal, and he wants nothing more than to leave.
Police come to look for the cocaine but the villagers stay silent and eventually the cartels come to claim it back for $500 a brick. Blanquito shows some unexpected smarts by selling a few back for cash but keeping the rest: it's his ticket out of town to Guayaquil, Ecuador's largest city, and Laura is going to partner with him to sell the drugs on. She can't be trusted, however, and the first sign of trouble comes when her driver Fabricio (Carlos Valencia) suddenly turns up to chauffer them around.
Pescador leaves some loose ends trailing as the trio head through the mountains to Quito, but Blanquito and Lorna are satisfyingly opaque characters to travel with. They are both their own worst enemies - his naivity, coupled with a burning thirst for booze, leads him into all sorts of dangerous situations, but Lorna is the one he needs to look out for as he haplessly and helplessly falls in love with her.
Stylish - speeded-up montages give a nice kick - and punchy, Pescador is helped along by a spirited soundtrack featuring local group la33.
Production companies: Cine Kilotoa, Cocoa Productions
Sales contact: Contento Films, alejo@contentofilms.com, Cinekilotoa, lisandra@uio.satnet.net
Producers: Sebastian Cordero, Lisandra I. Rivera, Alejandro Arango, Laura Gomez
Executive producers: Ramiro Almeida, Jonathan Berg, Cesar Gomez
Screenplay: Juan Fernando Andrade, Sebastian Cordero, based on Confesiones de un Pescador de Coca by Juan Fernando Andrade
Editors: Sebastian Corgero, Santiago Oviedo
Cinematography: Daniel Andrade
Production designer: Diana Trujillo
Music: Sergio Mejia performed by la33
Main cast: Andres Crespo, Maria Cecilia Sanchez, Marcelo Aguirre, Carlos Valencia