The Oscar-winning director discussed his approach to film-making and his feelings about 3D to NFTS students.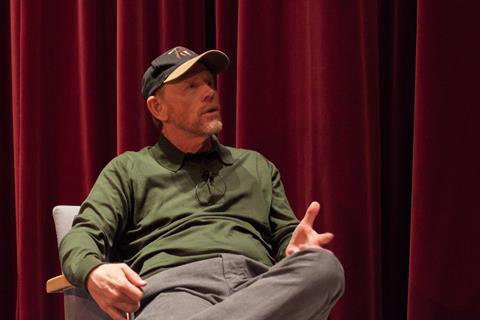 Ron Howard has explained how he stretched new muscles as a filmmaker with his maritime epic In The Heart Of The Sea.
The film, starring Chris Hemsworth (Thor, Rush) and based on true events from 1820, centres on the crew of a whaling ship that was preyed upon by a great white whale - a story that inspired literary classic Moby Dick.
Howard, the film-maker behind Apollo 13 and Frost/Nixon who won the Best Director Academy Award in 2002 for A Beautiful Mind, explained his approach to directing to National Film and Television School (NFTS) students at Warner Bros. Pictures, in central London.
"Almost every movie I make stretches new muscles," said the director. "It's the medium that can't be mastered, but that's the good news. I was grateful for many of my previous experiences because there was no time to experiment or be wrong. It was an ambitious challenge but was met by people who had a lot of experience and passion for the movie."
Innovative camerawork
One such crew member was director of photography Anthony Dod Mantle, who previously worked with Howard on Rush, taking cinemagoers into the Formula 1 cars of drivers James Hunt and Niki Lauda
"I love the sense of detail that can be captured," Howard said of Dod Mantle's cinematography, which included concealing small cameras in the set to capture unplanned, intimate moments.
"Every now and then, you would have a harpoon being picked up, a rope spinning or water sloshing. It was like casting a net and harvesting these really interesting images. That process, for which [Dod Mantle] has the patience and focus, really means a lot."
Achieving a 'captured' feel
"It was very much a movie discovered and defined in the edit," recalled Howard. "I didn't want this movie to feel staged. I wanted it to feel captured. That intimacy was something I wanted to bring into a story that was otherwise classic and almost begged for a traditional approach.
"It's easier to put the cameras in places they've been before and harder to go handheld, where someone has to support the operator or put the cameras on bungees so we can move with the actors. But by doing that, we created an intimacy with the actors and hopefully, therefore, with the audience."
Speaking about the characters, the film-maker said: "It's not really a story of heroes and villains. It's a story of forces of nature. And the whale isn't like the shark in Jaws, a predator. It's more like King Kong - an awakening of a force of nature in the form of this whale."
Origins
Asked how early in the process Howard gets involved in the story, the director said: "It varies from project to project. Parenthood was my original idea. But with In The Heart Of The Sea, it was a script that came to me through Chris Hemsworth after we worked on Rush.
"His manager, Will Ward, had found the script from producer Paula Weinstein, who acquired the rights to Nathaniel Philbrick's book and had been developing it for years. Paula was also a producer on The Perfect Storm so believed in the ocean as a place of great drama with which audiences could connect."
3D
The film was originally intended for release in March 2015 but favourable test screenings gave Warner Bros. the confidence to push the movie into the holiday season. "We agreed, as producers, that it was a time when audiences open their minds," said Howard. "Spring, you want pure escapism. That's not what this movie is. It's an adventure but also a drama."
The extra time afforded the opportunity to produce a 3D version of the film. "I had no experience with 3D," said Howard. "But I saw some tests that were very interesting and they were off and running.
"I was blown away by what it did for the movie and I'm really grateful for the experience. It's not just the action that's heightened and intensified. It's the texture, the feeling of the environment. It think it does as much for the quiet drama scenes as it does for the action."
In The Heart Of The Sea is set for US release on Dec 11 and UK release on Dec 26
For more information about the NFTS courses, including its MA in Film Studies Programming & Curation go to http://nfts.co.uk