Dir: James Marsh. Ireland-UK-France. 2012. 100 mins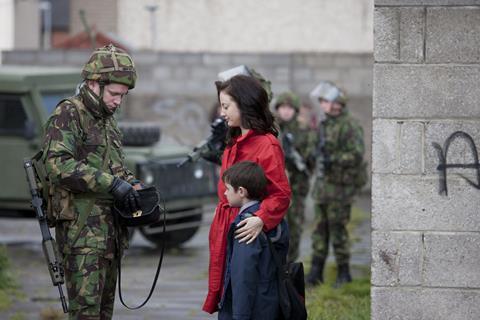 James Marsh's Shadow Dancer is a taut, morally tangled thriller that weaves a tortured web of betrayals in the midst of the burgeoning peace process in 1993 Belfast. Expertly directed and paced by Marsh, and boasting another riveting lead performance from rising UK star Andrea Riseborough, the film is neither didactic nor educational, and could be the first "troubles" film in years to make a dent at the box office.
Marsh does his best work to date in Shadow Dancer, hitting the beats of a thriller while getting into the psychology of a war zone.
The film screened at Sundance this week and has landed a high-profile out of competition slot at Berlin next month, attesting to Marsh's rising stock as a world-class narrative film-maker and hinting at the warm reception that the film is likely to receive with critics and audiences when it reaches theatres. Maybe it takes distance of a decade or more for successful films to emerge about conflicts as entrenched as Northern Ireland.
Adapted by former TV correspondent Tom Bradby from his own novel, the film is the story of a few characters that is symbolic of the larger strife. A prologue in 1973 shows how a young girl Collette McVeigh sends her little brother off on an errand she is meant to go on and watches in horror as he is caught in a crossfire of bullets and killed.
Twenty years later, the adult Collette (Riseborough) has become a radical IRA member working with a highly active cell run by her two other brothers Gerry (Gillen) and Conor (Gleeson). On a mission to plant a bomb in the London Underground, she is detained by the MI5 and an officer named Mac (Owen) offers her the choice: go to prison for 25 years and lose her young son Mark forever, or return to Belfast and act as an informer about Gerry and Conor's activities.
Forced to turn against her own blood and her deepest beliefs, Collette lets Mac know about an impending assassination attempt on an RUC officer but when the plot is ambushed, Collette finds herself under suspicion of the ruthless IRA Kevin Mulville (Wilmot), while Mac starts to suspect that MI5 is using Collette as a sacrificial lamb to protect another informer.
Each character is given no choice but to betray either their beliefs or their loved ones, and the story shows the cost of the conflict as each side made gains by tearing apart families and destroying lives.
Marsh, who made an assured narrative debut with The King in 2005 and directed the best of the Red Riding Trilogy in 2009, does his best work to date in Shadow Dancer, hitting the beats of a thriller while getting into the psychology of a war zone. He is assisted by a fine cast. Owen does strong work as the naïve Mac, Gillian Anderson is a breezily sinister MI5 chief, Brid Brennan is moving as the long-suffering McVeigh matriarch and David Wilmot terrifically menacing as the merciless Mulville.
Production companies: Unanimous Entertainment, Element Pictures, Wild Bunch
International sales: Wild Bunch, www.wildbunch.biz
Producers: Chris Coen, Andrew Lowe, Ed Guiney
Executive producers: Joe Oppenheimer, Brahim Chioua, Norman Merry, Vincent Maraval, Tom Bradby, Rita Dagher
Screenplay by Tom Bradby, based on his novel
Cinematography: Rob Hardy
Production designer: Jon Henson
Editor: Jinx Godfrey
Music: Dickon Hinchliffe
Main cast: Andrea Riseborough, Clive Owen, Aidan Gillen, Domnhall Gleeson, Gillian Anderson, Brid Brennan, David Wilmot