Dir: Guy Ritchie. UK-US. 2011. 128mins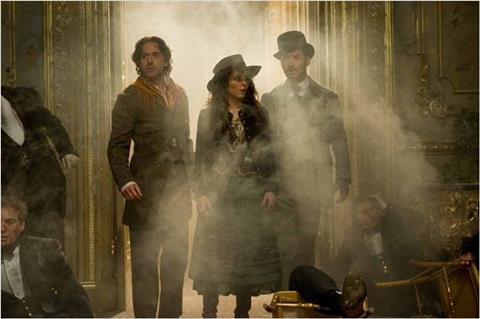 This latest film featuring the sleuthing duo of Sherlock Holmes and Dr Watson, as re-imagined by Guy Ritchie, is strong on romping high adventure and action and modest in terms of actual by-the-numbers detective work. But Sherlock Holmes: A Game Of Shadows certainly delivers in terms of good-natured entertainment and has enough style and panache to keep action fans happy.
Director Guy Ritchie smartly keeps things moving at a breakneck pace.
Its main Christmas-time box office opposition will be Mission: Impossible – Ghost Protocol, and while Sherlock Holmes: A Game Of Shadows might lack the sheer star power of Tom Cruise, it can match Mission: Impossible on the explosion quota and in Robert Downey Jr. and Jude Law has a detecting duo to be reckoned with. The pair have an easy chemistry and bring a good deal of warmth and oddball humour to the proceedings.
Director Guy Ritchie smartly keeps things moving at a breakneck pace, peppering the film with impressive cameos that help the link to the successful first film (Rachel McAdams's Irene Adler and Eddie Marsan's Inspector Lestrade make brief but memorable appearances) and adding to the pot a deliciously intelligent performance by Stephen Fry as Holmes's smarter older brother Mycroft.
Of course Holmes' purists and devotees of Sir Arthur Conan Doyle's original source novels may well continue to be mortified by Robert Downey Jr's more muscular and skittish interpretation of Sherlock Holmes (no Deerstalker here), but the film is a freewheeling pleasure in terms of action and adventure.
Sherlock Holmes: A Game Of Shadows sees Holmes up against his greatest enemy. A criminal mastermind has been coordinating a series of murders and bombings around the world and Holmes has finally unraveled the thread that links them to one man – the seemingly honest academic Professor James Moriarty (Jared Harris), a man dubbed 'the Napoleon of crime'.
The only real fly in the ointment for Holmes and his unveiling of Moriarty as an arch-criminal is Dr Watson's long-planned wedding to Mary Watson (the charming Kelly Reilly). After a boozy and bloody stag night – with Mycroft Holmes also in attendance – the wedding finally takes place, and the happy couple head off on a train to Brighton for their honeymoon.
But Moriarty and his men view Watson as a target given the Holmes is on his trail, and an attack is planned on the train. In an impressive series of set piece sequences Holmes (disguised of course) and Watson fight off the attackers, and Mary is reluctantly sent to stay with Mycroft for safety. In a choice scene Mary comes across an unrepentantly naked Mycroft wandering his house, with Stephen Fry bringing to the character his expected blend of wit, humour, intelligence and naked sophistication.
Joining forces with a mysterious Gypsy named Sim (played in her first English-speaking role by Swedish actress Noomi Rapace, who starred in the Swedish The Girl With The Dragon Tattoo films) who has her own personal reasons for stalking Moriarty, the detective duo travel to France, Germany and finally to Switzerland where Moriarty has evil plans for a peace conference being staged at the Reichenbach Falls.
As with his original Sherlock Holmes film, Guy Richie makes extensive use of slo-mo for some of the action sequences – particularly an escape through German woods as our heroes are bombed and shot at – and replicates moments where Holmes works out in brutal slow motion how he will take down an enemy before repeating the footage in bone-crunching normal time.
Robert Downey Jr's Sherlock Holmes is stubbly and disheveled but also a charismatic figure whose powers of deduction are second to none. This time round Downey Jr seems more at ease in the role and doesn't have to try as hard, resulting in an engaging, physical and amusing performance. He is aided but a nicely stoical performance from Jude Law as Dr Watson, a man as fond of the chase as Holmes and thankfully not lumbered with the bumbling hanger-on personality given to him in other versions. The pair work well together and their personal chemistry is what most boosts the film.
Around the edges the film fails to grip at times. Noomi Rapace is a striking figure, but her gypsy fighter is given little to do, apart from some nice fighting moves in her introductory scenes. And while Jared Harris is a fine actor, his everyman persona doesn't quite work in terms of making Moriarty an evil figure to be terrified of. Somehow films need a physically threatening villain, and in truth Moriarty's villainy – as it does in the source stories - lies on a cerebral rather than physical level.
Production companies: Warner Bros Pictures, Village Roadshow Pictures, Silver Pictures, Wigram Productions, Lin Pictures
US distribution: Warner Bros
Producers: Susan Downey, Dan Lin, Joel Silver, Lionel Wigram
Executive producer: Bruce Berman, Steve Clark-Hall
Screenplay: Michele Mulroney, Kieran Mulroney, based on characters created by Sir Arthur Conan Doyle
Cinematography: Philippe Rousselot
Editor: James Herbert
Production designer: Sarah Greenwood
Music: Hans Zimmer
Website: www.sherlockholmesagameofshadows.co.uk
Main cast: Robert Downey Jr, Jude Law, Noomi Rapace, Jared Harris, Stephen Fry, Rachel McAdams, Kelly Reilly, Geraldine James, Paul Anderson