Dir: Simon Pummell. UK-Netherlands. 2011. 86mins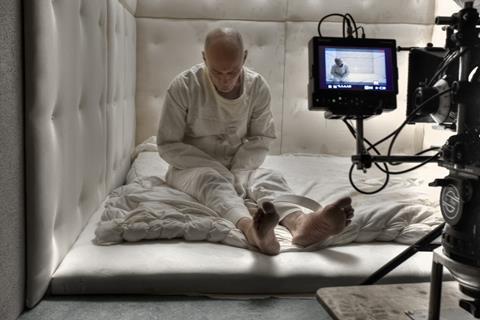 An austere yet wholly engrossing discourse on mental illness through a single well-known case of schizophrenia - it partially adapts Daniel Paul Schreber's Memoirs Of My Mental Illness, written in 1903 - Simon Pummell's Shock Head Soul is a unique film which often calls to mind the best of Peter Greenaway and seems a natural for festival inclusion and potential wider art house exposure.
Working with Helen Taylor-Robinson, Pummell has brought the art of cinema, storytelling and the field of psychiatry together in this unique achievement.
Dutch-shot and co-financed, Shock Head Soul is a restrained, cerebral piece that will be of interest to anyone who has ever tangled with mental illness. It also has much to contribute to a wider understanding by hosting, as it does, an external commentary on the case from eminent psychiatrists and social commentators, who help contextualise Pummell's dramatisation of Schreber's illness.
And underpinning it all is a strong and convincing performance from Hugo Koolschijn as the German supreme court judge who was brought low by madness and confinement.
Pummell's (Bodysong) style is refined here, its 'Dutch Masters' influence clean and clear in the painterly way he approaches Schreber's courtroom, which opens out to become a court of debate with modern-day experts (clothed in period costume) delivering their understanding of his case, and through it, the subject of mental illness.
Schreber was the youngest judge appointed to the Supreme Court in Dresden, Germany, yet ten years after his appointment he was back in the chamber to plead for his freedom as a psychiatric patient. His defense, which took the form of a memoir, has been celebrated over the last century as the most illuminating treatment of "madness from the inside" and his case was famously analysed by Freud.
Pummell examines the manifestations of Screber's madness - he believed that a Writing Down Machine, presented as a pulsating Cronenberg-style orb with typewriter keys (a la Naked Lunch), helped him to communicate with God. The director interprets Screber's vision of rays of illumination by astute use of special effects, so much so that we understand an expert when he states: "The psychotic world is very uncomfortable for some people; they forget that there is another version of seeing reality."
Pummell also looks at the whole man; Schreber's marriage to Sabine (Pfeifer) which resulted in six stillborn children, although she apparently already had a daughter through some incident of presumed infidelity. His brother, too, killed himself in the throes of syphilis. And Screber's father devised a notorious torture-like system of restraints for children that were widely used across Germany at the time.
Working with Helen Taylor-Robinson, Pummell has brought the art of cinema, storytelling and the field of psychiatry together in this unique achievement that, though superficially dispassionate, is cumulatively deeply moving. It's not just Schreber's story that saddens; it's the unique insight into what he - and so many others - may have suffered that makes the multi-layered Shock Head Soul so effective in the end.
Production companies: Hot Property Productions, Submarine Productions
International sales: Hot Property, www.hotpropertyfilms.com
Producers: Janine Marmot, Femke Wolting, Bruno Felix
Executive producer: Keith Griffiths
Screenplay: Simon Pummell, Helen Taylor-Robinson
Cinematography: Reinier van Brummelen
Prod designer: Rosie Stapel
Editor: Tim Roza
Music: Roger Goula
Main cast: Hugo Koolschijn, Anniek Pfeifer, Thom Hoffman