Dir: Jonathan Gurfinkel. Israel. 2012. 99mins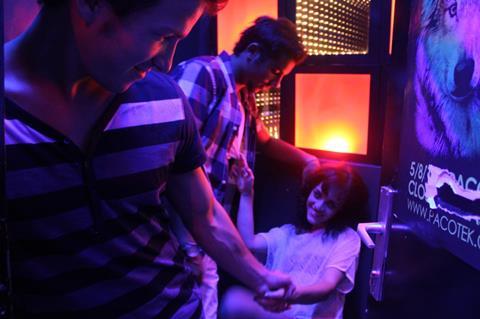 Israel's Jonathan Gurfinkel makes an arresting debut with Six Acts (Shesh Peamin) - which, despite being shot in an affluent beachfront suburb of Tel Aviv, is a completely universal film. If you don't immediately recognise the people and situations on screen here, you've forgotten what it is to be 16.
Six Acts is deliberately intense and claustrophobic, despite its beach-side setting.
At times almost excruciating to watch, Six Acts, handled internationally by Films Distribution, is a natural art-house attraction - and a potential crossover title - which should perform very solidly internationally, particularly at the younger end of the market. Boosted by a riveting, at times painfully honest performance from Sivan Levy in the lead role, Six Acts is both modern and a story for the ages. No mean feat for a debut.
Shot in HDcam in jeweled, fast-moving hues, Six Acts isn't particularly concerned with what has brought its characters to the place where they make their entrance. No reference is made to the state of Israel or religion or anything else you might expect - this is the hermetically-sealed world of the modern, privileged teen. Rona Segal is the writer here, and it seems certain you'll be hearing from her again.
Six Acts - which could correctly be heard as sex acts - opts to introduce the audience to 16-year-old Gilly (Levy) through her actions, and draw their own conclusions. The film is divided into six parts, and by the time parts five and six come around, the viewer can only be grateful that it's not called 'Eight Acts'. Intent, semi-unwittingly and wholly pathetically, on self-destruction, Gilly (who, we later learn has just moved school) photographs herself and sends the results to the class hunk, Tomer (Nik), who receives it on his mobile with his best friend Omri (Mor).
Tomer may be interested in little more than a hand-job, but Omri can't rest abusing Gilly's need to be accepted and wanted. At odds with her parents and desperate to be anyone but the girl she really is, Gilly is no match for Omri even as she colludes with him in her own destruction. In this world of swimming pools, I-phones, glossy houses and daddy's cars - this is Ramat Hasharon, but could be Malibu, Sydney, the South of France - there are no responsible adults to step in.
Gilly doesn't need to speak much, because everyone can recognise who she is - they may even at one point in their lives been Gilly themselves, or a part of her. And there's no point feeling sorry for her either - she's cruel to the only person who tries to show her any sympathy, although Shabat (Zilberberg) is almost her mirror image.
Unspooling over a short space of time (Act 3 refers to Act 2 as having taken place "yesterday"), Six Acts is deliberately intense and claustrophobic, despite its beach-side setting. Shark de Mayo's camera hones in relentlessly on Levy's open, searching face, her questionable choices in clothes, her sad 'Gilly' necklace - sad because all the while it identifies her as the person she least wants to be. Compelling stuff.
Production companies: Tazfilm productions, Israel Film Co, Mako
International sales: Films Distribution, info@filmsdistribution.com
Producer: Udi Yerushalmy
Screenplay: Rona Segal
Cinematography: Shark de Mayo
Editor: Arik Lahav Leibovich
Main cast: Sivan Levy, Eviatar Mor, Roy Nik, Niv Zilberberg