Dir: Edgar Pera. Portugal 2011. 94mins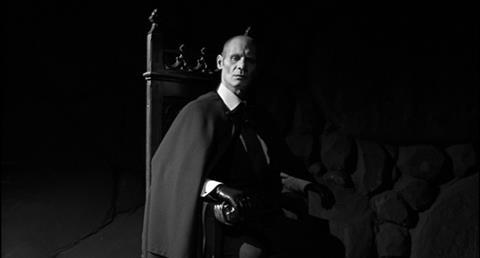 A black-and-white pastiche of bygone horror and melodrama styles, hothouse bloom The Baron (O Barão) might be described as a Portuguese answer to Guy Maddin - a hyper-stylised oddity that does its own hallucinatory thing in cut-price trompe l'oeil style.
The bold sense of style extends to the sound design, and even its (erratic) English subtitles.
Sufficiently commanding to transcend throwaway camp, The Baron is a somewhat one-note exercise, but displays panache to spare. Sales will be limited to niche outlets with a taste for the outré, but The Baron will be saluted by fests across the board, from the experimental school to events favouring cinephilia and old-school horror.
Opening titles explain that the film is a recreation of a 'Draculian' (sic) project once undertaken by an American B-movie crew in Portugal, and headed by one 'Valerie Lewton' (ahem!). The footage, we are told, was suppressed by national dictator Salazar, and the actors killed. This apocryphal backstory is a slender pretext for what follows.
Set in a rural Portugal resembling Hollywood Transylvania, the story follows a school inspector (Marcos Barbosa) as he takes a Nosferatu-style coach ride to a distant village ruled by the much-feared Baron (Nuno Melo). Obliged to be a guest in the Baron's castle, the Inspector falls for his servant Idalina (Leonor Keil, an uncanny ringer for Tilda Swinton) and witnesses an orgiastic music-and-dance routine set to drums and an a capella chorus.
The story is slim, but atmosphere and style are foremost in a melange which variously echoes Welles, James Whale, Cocteau, Hammer and (inevitably) Edward D. Wood Jr. Knowingly theatrical, the film is shot in imposing chiaroscuro, and the design achieves lofty expressionist miracles on modest resources.
The bold sense of style extends to the sound design, and even its (erratic) English subtitles. In the title role, Nuno Melo barnstorms as a memorably demented monster whose despotism carries allegorical echoes of General Salazar himself.
Production company/sales: Cinemate
Producer: Ana Costa
Screenplay: Edgar Pera, Luisa Costa Gomes, based on the novel by Branquinho da Fonseca
Cinematography: Luis Branquinho
Editors: Edgar Pera, Tiago Antunes
Production designer: Fernando Areal
Music: Vozes da Radio
Main cast: Nuno Melo, Marcos Barbosa, Leonor Keil, Marina Albuquerque