Dir: Nick Moran. UK. 2010. 100mins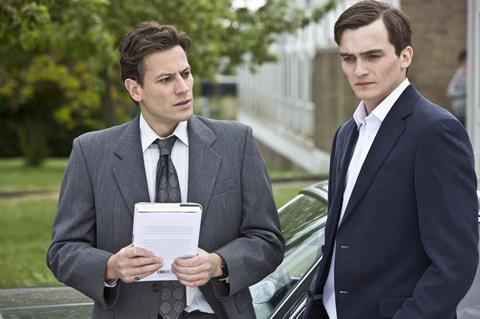 Nick Moran's adaptation of the Kevin Lewis "misery memoir" The Kid is a shameless tearjerker told with the broadest of brush strokes. The book was a massive bestseller in the UK providing a ready-made audience for this triumph-over-tragedy tale although the lack of subtlety in its execution will limit its commercial appeal.
Moran's approach is full of dynamism and energy.
The episodic nature of the narrative also suggests that The Kid may appear more at home on the small screen. Revolver will release in the UK in September.
The film begins in 1993 with Kevin (Rupert Friend) swilling booze and hoovering up pills as he decides to commit suicide. Flashbacks are structured around three periods in his life to reveal what has led to his despair.
In 1980, the young Kevin (William Finn Miller) suffers extreme abuse at the hands of his violent mother Gloria (Natascha McElhone) and alcoholic father, until he finds a father figure in care home worker David (Bernard Hill). The teenage Kevin (August Prew) is subsequently returned to the family from hell before finding further support from kindly teacher Mr. Smith (Ioan Gruffudd) and foster father Alan (James Fox).
The grown Kevin of 1993 finds that he cannot escape the ghosts of his past as he scrapes a living as a bare-knuckle boxer and falls foul of dodgy promoter Terry (David O'Hara).
Moran punches up the picaresque material with slow-motion fights, montages capturing the excesses of Thatcher's Britain and an extensive soundtrack of 1980s pop hits.His approach is full of dynamism and energy but winds up feeling shallow and leaving key elements unexplored including the relationship between Kevin and his many brothers and sisters.
Moran overindulges his fondness for both counterpointing the tragedy with soaring classic music and for casting against type. A de-galmourised Natascha McElhone is definitely outside her comfort zone as the cigarette-smoking, foul-mouthed harridan Gloria, but it is a pantomime performance that is hard to take seriously and whilst Rupert Friend conveys some of Kevin's emotional fragility his weedy voice and physical presence don't seem an entirely apt fit for the real Lewis who is seen in television footage at the film's conclusion.
Production company: Rainmaker Pictures
International sales: Intandem Films, www.intandemfilms.com
Producer: Judith Hunt
Screenplay: Kevin Lewis, Mark Thomas and Nick Moran, based on the book by Lewis
Cinematography: Peter Wignall
Editor Trevor: Waite
Production designer: Russell de Rozario
Main cast: Rupert Friend, Augustus Prew, William Finn Miller, Natascha McElhone, Ioan Gruffudd