Dir: Spencer Susser. US. 2010. 103 mins.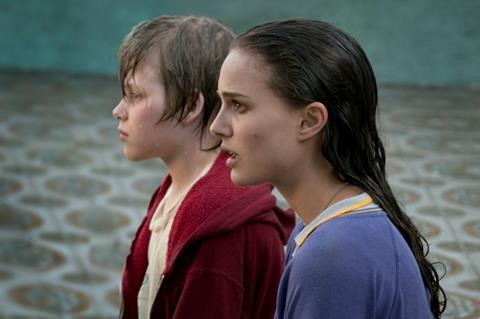 Tackling the coming-of-age genre and the grieving-family drama with an irreverent spirit, Hesher is a risky gambit that's pleasingly provocative. Highlighted by a brash performance from Joseph Gordon-Levitt as a rude, metal-loving reprobate who befriends a bereaved young boy, director Spencer Susser's intriguing mixture of pathos and dark comedy seems destined to become a cult item, despite some missteps in its final act.
Gordon-Levitt's rising profile, particularly after last year's Sundance smash (500) Days Of Summer, may attract indie-film audiences, but Hesher's unconventional shuffling of genres and moods could also present a marketing challenge. Nonetheless, encouraging notices should help convince the adventurous to give it a try.
A few months after the death of his mother, 13-year-old T.J. (Devin Brochu) is having difficulty coping with her loss. But then he meets a head-banging delinquent named Hesher (Gordon-Levitt), who decides to move in with T.J.'s family and become a sort of anti-mentor for the teenager.
Usually in a movie dealing with an adolescent boy's coming of age or a family's battle with grief, the viewer can reasonably expect an earnest, sentimental approach. But Susser thumbs his nose at such niceties, taking his cue from Hesher's impertinent attitude. Few films can successfully contain both moments of fart humour and touching scenes at a group grief-counselling session, but Hesher does just that, giving the proceedings a terrific unpredictability.
Gordon-Levitt's aggressively noxious portrayal enlivens the entire film, but unfortunately even he can't save the third act from tilting towards sheer silliness and forced character revelations. Still, Hesher's willingness to rethink maudlin genre conventions makes it a fascinating curiosity.
To sign up for Screen's weekly Reviews Newsletter with all the week's new releases, international openings and full festival reviews delivered free to your mailbox every Friday, please click HERE
Production companies
Corner Stone Entertainment
The Last Picture Company
Handsome Charlie Films
Dreamagine Entertainment
Catchplay
American Work Inc.
US sales
William Morris Endeavor Entertainment
+ 1 310 285 9000
International sales
Sierra Pictures
+ 1 310 777 4572
Producers
Lucy Cooper
Matthew Weaver
Scott Prisand
Natalie Portman
Spencer Susser
Johnny Lin
Win Sheridan
Screenplay
Spencer Susser
David Michod
(Story by Brian Charles Frank)
Cinematography
Morgan Pierre Susser
Production designer
Laura Fox
Editor
Michael McCusker
Main cast:
Joseph Gordon-Levitt
Devin Brochu
Rainn Wilson
Piper Laurie
Natalie Portman
John Carroll Lynch