Dirs: Robert Pulcini and Shari Springer Berman. US. 2009. 108 mins.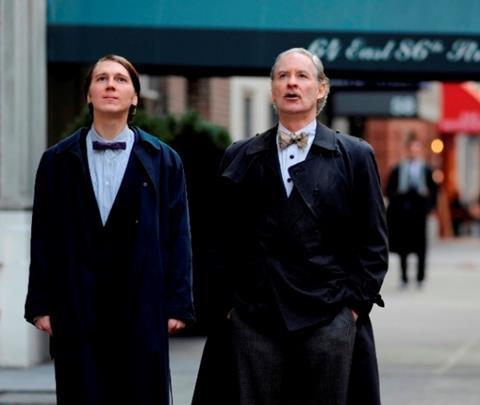 The tale of an eccentric young man who moves to New York, only to be taken under the wing of an even more eccentric older man, The Extra Manis a deeply goofy comedy set in a world of weirdoes which boasts one of Kevin Kline's funniest ever performances.
Kline's portrayal of Henry is a real treat
Directors Robert Pulcini and Shari Springer Berman are best remembered amongst indie audiences for their Oscar-nominated American Splendor, although the directors had a bigger commercial hit with their follow-up, the critically derided The Nanny Diaries. With The Extra Man they have netted a starry cast including Kline, Paul Dano and John C. Reilly, which should make this likeable laugher a hit with the art house crowd.
Louis Ives (Dano), a stiffly prim-and-proper English teacher, is forced to resign after he's caught wearing a colleague's bra, which prompts him to move to New York to become a writer. Seeking an apartment, he moves in with Henry Harrison (Kline), a would-be aristocrat who's desperately low on funds and spends his evenings as a male escort for rich older women.
Adapted from the novel by Jonathan Ames, The Extra Man builds its considerable laughs around the interactions of Louis and Henry. The younger man longs to be a perfect gentleman with impeccable manners and superb taste, but in Henry he discovers a terrifying vision of his possible future self.
Henry, meanwhile, conducts himself as if he's part of Manhattan's cultural and economic elite, but in truth he drives an old banger and possesses a litany of bizarre personal quirks. That they would bond is not a surprise, but The Extra Man's humour comes from how both men in their own ways are using their invented personas to conceal insecurities and frustrations.
Kline's portrayal of Henry is a real treat. Playing a character who is drowning in his own affectations might have easily lead to a mannered, artificial performance. But even though Kline is hilarious playing this adorable fool, he makes Henry nuanced enough to illustrate the rationale behind his odd behaviour (like his need to do off-kilter morning dance routines) and the brief moments of despair behind the snooty attitudes and dismissive putdowns.
Kline's superb turn doesn't operate in a vacuum and in some ways, Dano has the tougher assignment, playing a timid, uptight young man who slowly comes to realise Henry's self-deception. And Louis is not without his odd tics as well, which are revealed over the course of the movie and explored with a decent balance of humour and pathos.
The filmmakers surround their main characters with an assortment of Henry's weird neighbours, former roommates and pseudo-friends, and it's here that The Extra Man is a little less sure of its step, occasionally tipping over into the sort of exaggerated caricature that thankfully never descends on Kline's and Dano's performances.
To sign up for Screen's weekly Reviews Newsletter with all the week's new releases, international openings and full festival reviewsdelivered free to your mailbox every Friday, please click HERE
Production companies
Wild Bunch
A Likely Story
3 Arts
US Sales
Creative Artists Agency
+ 1 424 288 2000
International Sales
Wild Bunch
+ 33 1 53 01 50 21
Producers
Anthony Bregman
Stephanie Davis
Screenplay
Robert Pulcini
Jonathan Ames
Shari Springer Berman
Based on the novel by Jonathan Ames
Cinematography
Terry Stacey
Production design
Judy Becker
Editor
Robert Pulcini
Music
Klaus Badelt
Main cast:
Kevin Kline
Paul Dano
John C. Reilly
Katie Holmes
John Pankow
Celia Weston
Patti D'Arbanville
Lynn Cohen
Marian Seldes
Dan Hedaya
Jason Butler Harner