Dir/scr: Alexei Popogrebsky. Russia. 2010. 124mins.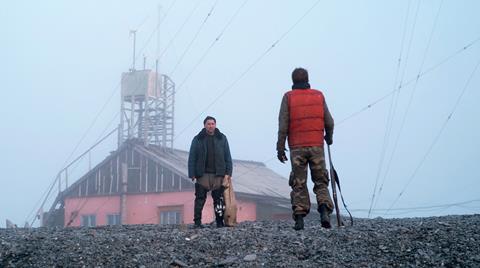 It's a cliché to say that the landscape is the star of the film, but it's undeniably true of How I Ended The Summer, a Russian drama set in one of the bleakest, most windswept terrains imaginable – Chukotka in the Arctic Circle. But Chukotka has two extremely compelling co-stars in this remarkable drama by Alexei Popogrebsky (co-director of 2003's Koktebel).
Rich in resonance, this can be read as a brutal coming-of-age story, as a quasi-religious ordeal or as a King Lear-type epic of madness and the elements
Set at a remote meteorological station, Popogrebsky's film proves that, even in the CGI era, film-making can still be an outward-bound muscular adventure. Narrative drive and rugged, male-angled subject matter should spread Summer's appeal beyond the art-house niche, to pick up some of the market that relished true-adventure documentary Touching The Void.
The setting is an Arctic island in summer where two men operate a run-down weather station. One is taciturn, grizzled veteran Gulybin (imposing Puskepalis, best known as a theatre director), who occasionally sends terse messages to his wife and son on the mainland via his radio contact.
The other is lackadaisical young Danilov (Dobrygin), on a temporary posting, first seen listening to indie music on his headphones while measuring the radioactivity of the island's dangerous isotope beacon.
Gulybin reluctantly tolerates the younger man, but reads him the riot act when Danilov's data readings prove wildly inaccurate. While Gulybin is away fishing, Danilov takes a radio message of extremely bad news from the mainland - but for whatever reason, whether from fear or something more complex, he fails to pass it on to Gulybin. When Gulybin finally gets the news, Danilov goes AWOL, camping out on the island in forbidding conditions, eventually driving himself to the edge of sanity.
Rich in resonance, the story can be read partly as a brutal coming-of-age story, with the two men as a surrogate father-son duo; as a quasi-religious ordeal in which Danilov must go through earthly hell to redeem himself; or as a King Lear-type epic of madness and the elements. But the film also works as a nail-biting yarn, a tale of extraordinary endurance both for Danilov and for the actors, who are called upon to dive into icy water, climb sheer rock faces - even eat eggs from a disturbingly rusty frying pan.
The opening half-hour is slow-burning, evoking the repetitive life at the station, with technical talk abounding. But the play between the two men – each initially shot in claustrophobic close-up – gets us hooked psychologically.
As the story develops, Popogrebsky takes a bold risk on having us root for a hero whose motivations are unclear from the start, who seems at first callow, then apparently develops a case of hysterical cowardice.
The film was shot over three months at a real weather station and DoP Pavel Kostomarov, using the Red digital camera, captures landscapes that are striking but never aestheticised, from fog-steeped valleys to murderous rocky cliffs. Sparing use of time-lapse photography is memorable, especially in the heart-stopping closing shot.
To sign up for Screen's weekly Reviews Newsletter with all the week's new releases, international openings and full festival reviews delivered free to your mailbox every Friday, please click HERE
Production company
Koktebel Film Company
International sales
Bavaria Film International
(49) 89 6499 2686
Producers
Roman Borisevich
Alexandr Kushaev
Cinematography
Pavel Kostomarov
Editor
Ivan Lebedev
Production design
Gennady Popov
Music
Dmitry Katkhanov
Main cast
Grigory Dobrygin
Sergei Puskepalis