EXCLUSIVE: Organisers in talks with studios and indie distributors for October film event.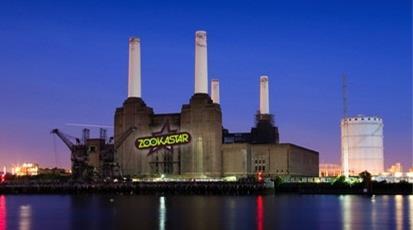 London's Battersea Power Station is to stage a new four-day film festival this October.
The four-day event, called Zookastar, will run from October 31 to November 3 at the iconic former power station on the Thames.
According to organisers, the event will host around 20-25 English-language, "mainstream" completed features - including previews of upcoming blockbusters, premieres, a red-carpet, sneak preview footage, first-look trailers, appearances by filmmakers and cast, masterclasses, Q&A sessions, memorabilia and autograph signings.
The power station will house four screens, including a 500-seat 3D-enabled cinema. Organisers are currently in discussion with studios and independent distributors over content. They are also in talks with sponsors.
The half-term timed event will be based around seven zones: action and adventure, classic horror, movie production, costumes and props, the toys and robots zone, Bollywood and comics and pop culture.
UK animation house Aardman will lead claymation and live-directing masterclasses at the event while film training company Videopia will run filmmaking courses.
There are also due to be stunt schools, Q&A sessions and a competition to create a music video for an international singer in the lead up to the event. Pop-up cinema company The Lost Picture Show is also a partner.
"Ambitious" plans
Zookastar has been created by commercials producer Ivor Kayne, who previously set up creative agency Duke & Earl, and his wife Emma, a creative consultant and former film and TV commissioner for labels including Island Records, Polygram and Mute Records.
Former Paramount Pictures International events manager Nicola Smith is the event producer, while former Pathe and Picture Production Company executive O'Pray is managing director and programmer. Film memorabilia expert Adrian Cowdry is also on board.
"We have chosen an ambitious location, programme and date because we believe there is room for this," Zookastar managing director Steve O'Pray told Screen.
"The idea behind the date is to be after the major summer releases and before the big December-January blockbuster schedule. We also want to capitalize on the half-term.
"A couple of the studios we are talking to are thinking about giving us films pre-release.
"We're also after the London Film Festival [Oct 9-20]. I'm a big fan of the LFF and our aim isn't to compete with it.
"Zookastar is not only about watching films, there are plenty of other things to do during the day."
Private investment
Backed by a private investment fund and individuals, O'Pray told Screen that organisers have a budget of around £750,000.
The Zookastar managing director said the event is not a UK answer to Comic-Con - which holds its own London event during the summer - as it will host a "broader selection" of films.
It would not be contending for autumn festival awards contenders, unless a studio wanted them to screen there.
He also said there is no financial connection between Zookastar and Empire Big Screen, a three-day film event launched in 2011 by Bauer Media and Clarion Events, which drew 30,000 people to the O2 across a three-day event in 2011.
"Our ambition is very different," said O'Pray. "We are a happening and an event, rather than a straight festival or convention."
"We want people to come and spend the day at the event. We want people to take part in the activities and see what's behind the curtain. We often forget how far the general public feels from the industry so we want them to participate in it."
"There's no 'festival' or 'convention' in our title. We have the best elements of a festival and convention but want to offer something broader."
Organisers hope to attract around 20,000 people over four days.
A one-day ticket for the event, now advertised on Ticketmaster, costs £27.50.
Iconic location
Battersea Power Station, which is the largest brick building in Europe, has appeared in films including Alfred Hitchcock's Sabotage, Monty Python's The Meaning of Life, Guy Hamilton's Battle of Britain and most recently in Christopher Nolan's The Dark Knight, and has made numerous appearances in TV series Doctor Who.
In recent years, the art-deco structure has been used for various sporting, cultural and political events, including the Red Bull X-Fighters season and was chosen as the launch venue for the Conservative Party's 2010 general election manifesto.
In July 2012, it was sold for £400m to a consortium led by Malaysia's SP Setia, which is due to redevelop the site, including a significant housing element.
As a result of the redevelopment, it is unlikely Zookastar would be able to take place at the Power Station for more than two years.