DIRECTOR: Hailing from Loughborough in the Midlands, London-based Rachna Suri is forging her way as an independent director.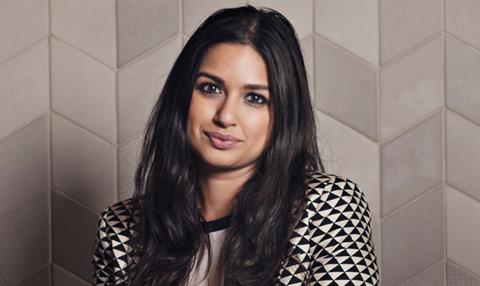 Click here for more Stars of Tomorrow
She finished the short Playing Ball for the BBC's Original Drama Shorts strand earlier this year, after 2013's Our Lad, the Channel 4-backed and Bafta-longlisted short about a British Muslim soldier returning from Afghanistan.
Educated at Oxford University, where she read PPE, Suri started out in the film business hoping to become an actress.
Her ambitions soon turned to production, and she worked for Universal, New Line and Momentum on graduation, before branching out into directing online programmes for broadcasters, first at Channel 4 and then at Google Creative Lab, where she was executive producer/director.
Suri's way of working is to find an idea, move it to a certain stage of treatment and then work on the script with a collaborator.
Keen to make the leap to features, she is working on a treatment with fellow Star of Tomorrow Charlie Covell called Zain Rodeo, as well as a story about babies born in prison.
"My ideas come from something I've read, they'll have a base in reality," she says. "I'm interested in making personal stories with a wider public interest."
"Directing a lot of work with art galleries, with artists, for auction houses, keeps me going while I work on drama," she says.
"I've had an obtuse career path but I have all these stories to tell and I'm ready to tell them."
Contact Rachna Suri rachna@rachnasuri.com rachnasuri.com