Dir/scr: Mohamed Diab. Egypt. 2010. 100mins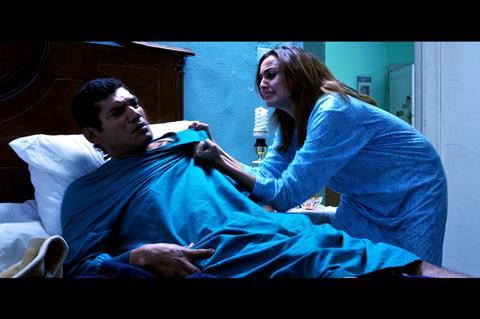 Few filmmakers possess the prowess to tackle nearly insurmountable social issues with the formal skill they deserve. For his directorial debut, Egyptian screenwriter Mohamed Diab (known best for the 2007 film The Island) not only joins their ranks, he raises the threshold of this rare marriage of form and content.
Besides making excellent choices about shot length and type, Diab puts his screenwriting experience to good use.
Whether audiences will flock to a movie exposing the taboo subject of sexual harassment of women in Egypt is another question—since it opened domestically in mid-December, females have been much more receptive than males, and the whole enterprise has come under attack for presenting a negative image of the country. The topic is so controversial that the film has been the talk of Cairo, frequently condemned by pundits who have not see it.
The $2 million film is a natural for festivals - it had its world premiere in Dubai, where, except for some deserved acting prizes, it was overlooked - and certain upscale markets, especially those with a strong female base, could be counted on for international support. Although the backdrop, subject matter, and principal characters are specifically Egyptian, 678 should resonate in any number of cultures, with audiences of both genders.
Besides making excellent choices about shot length and type, Diab puts his screenwriting experience (mostly with action movies) to good use. There are no black or white characters here, and they are not really gray either. The three harassed women at the film's centre are of different ages and social classes, and they argue among themselves about vendettas, which shift from pricking an overly forward man's hand to stabbing him in the groin.
The main character (whose support got the project going, in a country where many actresses wanted nothing to do with it) is veiled, conservative, working-class mother Fayza (music superstar Bushra), whose economic situation dictates that she ride the crowded buses daily and expose herself to what men call "the lemon test:" pocket-size foreplay to test a woman's receptivity to further molestation.
After seeing her on TV, Fayza goes to see upper-class jewellery designer Seba (Kareem), who has been roughed up sexually at a sporting event and decides to host a seminar for women who have been assaulted (though none will own up to it). The youngest, Nelly (El Seba'i), is a spirited, engaged twentysomething who aspires to be a stand-up comic, but whose life changes dramatically after she is grabbed by a man from his moving car. Nelly is based on the courageous woman who, in 2008, filed the first sexual harassment lawsuit in Egypt.
Diab's character development extends beyond the three women. Their husbands or boyfriends are shamed by their victimisation. Seba's spouse can not stand to look at her. Nelly's fiancé turns out to be unusually supportive (there are a few decent men here), but only after his family has told her that if she continues the legal battle, the marriage will be called off.
A brilliant stroke is the addition of large, lethargic police detective Esam (comic El Kedwany), who is technically searching for the women who have attacked men with needles but becomes enlightened as he learns more about the phenomenon of harassment and has a personal epiphany regarding the worth of women.
The title, 678, is shorthand for the continuation of this social epidemic - it could just as well be called 345 - in a nation of 70 million that is in mass denial.
Production companies: Dollar Film, New Century Production
International sales: www.diabfilms.com
Producer: Bushra Rozza
Cinematography: Ahmed Gabr
Production designer: Ali Husam
Editor: Amr Salah
Music: Hany Adel
www.themovie678.com
Main cast: Bushra, Nelli Kareem, Nahed El Seba'i, Maged El Kedwany, Bassem Samra, Ahmed El Fishawy, Omar El Saeed