Dir: Stephan Elliott. Australia. 2011. 96mins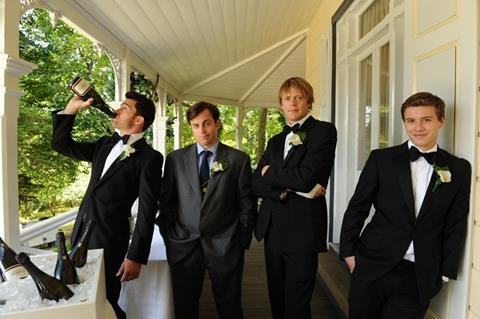 Men behave very badly in Priscilla, Queen Of The Desert director Stephan Elliott's latest, an Australian-set scatological wedding-comedy bromance that makes The Hangover look like it was written by Noel Coward. Perhaps the only really original twist of this gross-out inbetweeners romp is the way it challenges the antipodean stereotypes by making the Australian bride's family the posh ones and the English groom and his three best mates the regular kids from (we assume) ordinary London families.
It all moves along at a cracking pace, and the best-mates chemistry is fairly well set up.
The film was received with some laughs but also a good deal of polite bemusement at its Rome Film Festival international premiere, partly perhaps because the mixed age audience didn't know quite what they were in for. In the end, this is a male-skewed niche product that will play young and downmarket. Though the film pre-sold in a raft of territories - including France (Pyramide) and Italy (Lucky Red), theatrical prospects look strongest in Australia and perhaps the UK; elsewhere, DVD and online distribution beckons.
British scriptwriter Dean Craig follows exactly the same formula as he did in his last outing, Death At A Funeral: take a solemn family ceremony (a wedding here, a funeral there) and unleash anarchic comedy disruption upon it. But while Death At A Funeral managed to keep dark social and family satire bubbling under its slapstick surface - as if Judd Apatow had remade Festen – A Few Best Men is, most of the time, just plain crass, with little of the arthouse crossover potential of that earlier film. Or, for that matter, its remake potential.
Xavier Samuel plays dishy English groom David, while Laura Brent is Mia, the blonde-babe Australian girl he is due to marry following a whirlwind tropical romance. David returns to a conventionally rainy London and breaks the news to his best mates: laddish Tom (Marshall), neurotic Graham (Bishop) and suicidal Luke (Draxl).
All four set off for the wedding in Australia, which turns out to be in the magnificent Blue Mountains villa owned by Mia's father, domineering right-wing senator Jim Ramme (Biggins), who plans to use the ceremony and reception to impress important guests. Olivia Newton-John (clearly having great fun in a role that calls on her, among other things, to snort tramlines of coke) plays Ramme's long-suffering trophy wife Barbara. A psychotic outback drug dealer (Le Marquand) and a ram called Ramsy - the senator's lucky mascot - are among the film's kooky bit parts.
If you like the idea of a bride barging into a room to find her new husband giving mouth to mouth resuscitation to a Merino sheep in drag that has recently been anally searched by a friend of the bridegroom in a desperate attempt to retrieve some cocaine capsules that the sheep accidentally ate, you have a treat in store. Actually, this particular scene is quite funny. The problem is that A Few Best Men becomes in the end a wearing audience experience, as the film's one big idea is its 'whatever will they get up to next?' escalation of disasters, married to that indulgent strain of Aussie weirdness that has marked all of Elliott's outback comedies – especially Welcome To Woop-Woop.
At all least it all moves along at a cracking pace, and the best-mates chemistry is fairly well set up, especially in the central sparring team of laid-back Tom (Kris Marshall) and uptight Graham (Kevin Bishop). Technically too there's nothing wrong with the film: colourful production design, peppy cinematography and a bright soundtrack of covers from YMCA to Georgy Girl keep the comic ball rolling.
Production companies: Screen Australia, Arclight Films & Quickfire Films and Screen NSW present a Parabolic Pictures and Stable Way Entertainment Production in association with Unthank Films, Story Bridge Films, Ingenious Broadcasting and Auburn Entertainment
International sales: Arclight Films & Quickfire Films
Producers: Share Stallings, Laurence Malkin, Gary Hamilton, Antonia Barnard
Executive producers: Dean Craig, Josh Kesselman, Todd Fellman, Mark Lindsay, Ian Gibbins, James Atherton, James M Vernon
Screenplay: Dean Craig
Cinematography: Stephen Windon
Editor: Sue Blainey
Production designer: George Liddle
Music: Guy Gross
Main cast: Xavier Samuel, Kris Marshall, Kevin Bishop, Tim Draxl, Olivia Newton‐John, Laura Brent, Rebel Wilson, Jonathan Biggins, Steve Le Marquand