Dir: Boris Khlebnikov. Russia. 2013. 77mins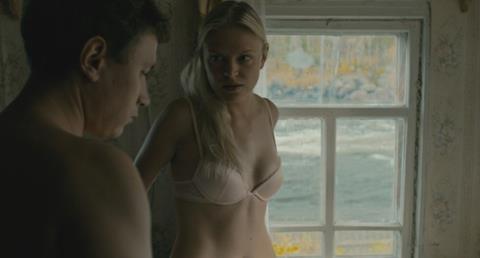 A spoiler alert is hardly required to tip you off that the title is ironic. A Long Happy Life (Dolgaya Schastlivaya Zhizn) is a short, downbeat film, a realist fable about how tough times have become for the honest man in contemporary Russian. With subject matter and tone suggesting a Russian rural Ken Loach – although without his usual affirmative endings – Boris Khlebnikov's film gets by on its simple, direct storytelling and a likable doomed hero.
A Long Happy Life isn't without subtextual shading, but ultimately its functional, sketchy concision works against it having more than anecdotal power.
But narrative spareness and an effective but no-frills visual style pay off fewer dividends than its dramatic set-up promises. It's unlikely that this film will bring Khlebnikov any of the international laurels or art-house exposure he won with 2003's Koktebel, which he co-directed with Alexei Popogrebski.
The setting is a small tumbledown village by a river, in the Murmansk region of northern Russia. Idealistic young Sasha (Yatsenko) has come from the city to run a farm, with hopes of a thriving country existence. But now he's being pressured into leaving the land, with bureaucrats from the local council urging him to sign quickly for a healthy payoff. His plan is to move into a city flat with his girlfriend Anna (Kotova), who works for the council. But his farm workers persuade him to stay put, inspiring him with rousing rhetoric about supporting them and fighting the good fight.
Up to this point, the film looks as if it's going to deliver a power-to-the-people message, with the farm workers ready to take up arms to defend their livelihood. But quickly the cracks begin to show: one by one, the farmers start deserting Sasha, hitting on him for loans and generally showing transparent self-interest.
With Anna giving up on him, and the hole he's dug himself getting ever deeper, all Sasha can do is doggedly build his chicken coops and wait for the worst to happen. When it does, with abrupt brutality, the ending feels contrived and perfunctory, with only a bittersweet coda – to suggest how things might have been – bringing a hint of dramatic subtlety.
The third in a trilogy by Khlebnikov and co-writer Alexander Rodionov, dealing with the theme of choice – after Free Floating and Help Gone Mad - A Long Happy Life is partly a state-of-Russia declaration, suggesting that the old Soviet ideals of solidarity and working for a better future have lost whatever credibility they once had. In this film's Russia, bureaucracy, money and muscle rule and everyone's out for themselves – notably Sasha's fellow farmer and apparent ally Volodya (Korobeinikov). He proves the most devious person here (and one might detect an implicit anti-Semitic slur in his sneered revelation that he doesn't celebrate Christmas).
Visually, the film is in a mode of no-fuss wintry rural realism – with flashes of dynamic camera in the early scene of a house fire, and the leitmotif of a rushing river suggesting that, despite political changes, some things in Russia are eternal.
The appealing if undemonstrative Yatsenko is cleverly cast to embody a now-devalued archetype; with his broad, candid features, he could have been a lead actor in the Soviet social realist dramas of yore, although the film makes it clear that his noble breed is now as doomed as the dinosaur. A Long Happy Life isn't without subtextual shading, but ultimately its functional, sketchy concision works against it having more than anecdotal power.
Production company: Koktebel Film Company
International sales: Films Boutique, www.filmsboutique.com
Producers: Roman Borisevich, Alexander Kushaev
Screenplay: Alexander Rodionov, Boris Khlebnikov
Cinematography: Pavel Kostomarov
Editor: Ivan Lebedev
Production designer: Olga Khlebnikova
Main cast: Alexander Yatsenko, Anna Kotova, Vladimir Korobeinikov, Sergei Nasedkin