Dir: Ken Kwapis. US. 2015. 104mins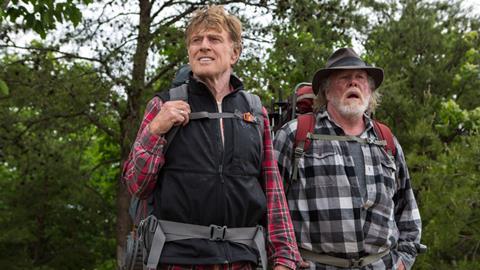 A slack travel yarn, A Walk In The Woods can only go so far on the crotchety rapport between stars Robert Redford and Nick Nolte. Based on Bill Bryson's memoir about walking the Appalachian Trail, this bittersweet film miscalculates how much comic mileage can be accrued by following two older men as they traipse though nature bonding and grousing.
One wouldn't expect A Walk In The Woods to be a rat-a-tat-tat 1930s comedy, but between the stars' rusty comic timing and the script's stale setups, the movie simply isn't that funny, more likely to produce a smile than even a chuckle.
Making its debut at the Sundance Film Festival, A Walk In The Woods should appeal to the same audiences that trekked out to Last Vegas or Grumpy Old Men. (Fans of Bryson, one of the world's most famous travel writers, and Redford and Nolte will also no doubt be curious.) Certainly geared toward older viewers, the film will benefit from the big screen during scenes of our road warriors surrounded by the great outdoors. But considering that A Walk In The Woods is mostly a small-scale comedy-drama about aging, regret and male friendship, viewers preferring to enjoy this roughing-it romp from the comfort of their couch won't miss too much.
Not having written a book for a few years and feeling restless, Bryson (Redford) has a thought: As a travel writer, he's documented most of the world, but he's never really focused on his home country, the United States. And so he decides to walk the Appalachian Trail, which spans more than 2,000 miles and touches 14 states, from Georgia to Maine. His wife (Emma Thompson) is understandably concerned: He's not a young man, after all, and going it alone could bring with it severe risks — even death. Though she disapproves, she begs him to at least consider finding a companion for this journey. Unfortunately, Bryson has no luck convincing anyone to join him —until a long-lost old friend, Stephen Katz (Nolte), calls Bryson out of the blue, volunteering to go.
Because much of the comedy (and some of the drama) stems from the fact these men aren't youngsters, A Walk In The Woods will be compared to other films, such as Last Vegas or The Bucket List, in which older men grapple with mortality while trying to have one last hurrah. And director Ken Kwapis (Big Miracle, He's Just Not That Into You) doesn't work too hard to distinguish his movie from those earlier entries, mostly sitting back and letting his two veteran actors work their charm.
But movie-star charisma isn't always enough. The screenplay from Rick Kerb and Bill Holderman favours jokey, episodic bits that rarely seem inspired. A Walk In The Woods establishes Bryson as the straight man while Katz — overweight, a recovering alcoholic, badly out of shape, horny as hell — plays the fool as he cracks wise and occasionally gets them into trouble. There's a sitcom sheen to the proceedings, and Redford and Nolte lack the comedic sharpness to elevate subpar zingers about sex lives and aching body parts.
Redford proved with 2013's All Is Lost that he remains a powerfully physical onscreen presence. Although, to be fair, A Walk In The Woods is merely a feel-good film without the ambition of an All Is Lost, it nonetheless doesn't play to the actor's strengths. Now 78, Redford simply doesn't have the grace or buoyancy he once displayed, and so his attempts at laughs often result in wan deadpan looks or soggy quips. If All Is Lost emphasised the weathered, almost tragic stoicism of his face, this new film requires a livelier persona than Redford is able to provide.
Nolte struggles as well, imagining Katz as a larger-than-life comic foil. The problem is that the actor's husky, pinched voice and burly frame leave the character seeming lethargic. One wouldn't expect A Walk In The Woods to be a rat-a-tat-tat 1930s comedy, but between the stars' rusty comic timing and the script's stale setups, the movie simply isn't that funny, more likely to produce a smile than even a chuckle.
The women around the main characters come across far better. Kristen Schaal is wasted as an annoying backpacker that Bryson and Katz meet along the way, but Mary Steenburgen is spot-on as a hotel owner who takes a shine to the married Bryson. Her and Redford's exchanges are the one moment in A Walk In The Woods where there's a real sense of chemistry and intrigue in an otherwise routine aging-friends story. (We feel the hint of sexual tension between them, but the movie runs away from it quickly.) And Thompson is so warm and funny in her brief role that you may wish that the film had decided to hang out with her while the men go off to the woods.
Production companies: Route One Films, Union Investment Partners, Surefire Entertainment Capital, Wildwood Enterprises
International sales: WME Entertainment, www.wmeentertainment.com
Producers: Robert Redford, Bill Holderman, Chip Diggins
Executive producers: Jeremiah Samuels, Jake Eberts, Jay Stern, Russell Levine, Lee Jea Woo
Screenplay: Rick Kerb, Bill Holderman, based on the book by Bill Bryson
Cinematography: John Bailey
Editors: Carol Littleton, Julie Garcés
Production designer: Gae S. Buckley
Music: Nathan Larson
Main cast: Robert Redford, Nick Nolte, Kristen Schaal, Nick Offerman, Mary Steenburgen, Emma Thompson