Indian superstar and producer Aamir Khan and first-time writer-director Anusha Rizvi talk to Jeremy Kay about the film Peepli Live, which screens in Sundance's World Cinema Dramatic Competition.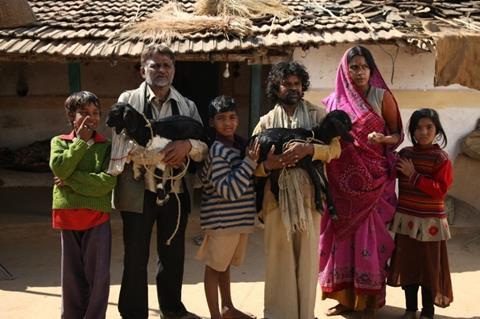 Peepli Live charts the media and political furore that ensues when a poor farmer announces he will commit suicide so his family can receive compensation from a controversial government programme.
Khan is one of the biggest names in Hindi cinema and currently stars in the record breaking Bollywood release 3 Idiots. His credits include Lagaan, The Rising, and Ghajini. His Aamir Khan Productions (AKP) produced the film with UTV and the companies are co-representing worldwide sales. This is his fourth film as producer. Rizvi is a former broadcast journalist. This is her first feature as writer-director.
How did you meet?
Khan: I was doing The Rising [about four years ago] and there was this young girl who kept pestering me about this script she had for a film called The Falling. We eventually changed the title. She came and read it to me and I just loved the script. I was laughing and I was also heartbroken. It's a very unusual film for mainstream Indian cinema. You will not see a film like this in theatres, but a lot is changing. None of my films have been typically mainstream, so I wanted to make it. I didn't know if Indian audiences would like it but I knew film fans would like it and that it had the potential to engage world audiences.
Rizvi: He replied to my email, which you don't expect from a superstar.
What gave you the idea for the story?
Rizvi: I was watching TV and they announced this state-wide scheme [several years ago, to compensate families of farmers who committed suicide] and revoked it shortly after that. It struck me how you have schemes for people who are dead but not for people who are alive. I wrote it, but I didn't think I should direct it. But I realised the humour in the film was personal, so I took a chance. This film isn't only about farmer suicides. We don't try to offer a solution: it's a device we use to discuss bureaucracy, the rural and urban divide in India, and the apathy of the government. We have completely shut ourselves off form rural India, which accounts for 70% of the population. We pretend they don't exist.
Indian farmers have been committing suicide for many years. What is the extent of the problem?
Rizvi: At the end of the film we cite a government statistic that says between 1997 and 2007 there were approximately 180,000 suicides. These are government figures, but there are authorities on the subject who say the number could be much higher.
Khan: Suicide in India is a very strange phenomenon. It's not just one farmer – it's loads of them. There's something very wrong going on inside people's heads, but nobody has been able to come out with a solution.
Explain the narration process, common in Bollywood, in which you read aloud the script to a potential collaborator?
Rizvi: You want to visualise the story in your head so it's easier if you can hear it.
Khan: I have been working in film for 20 years as an actor and I enjoy listening to stories. I prefer to listen to the scripts. So the script is open and she starts reading it out. Because of the manner in which it's being read, I see it from the director's eyes. She was one of the least accomplished narrators, but it didn't matter to me; a bad narrator cannot spoil a good script.
The media are depicted as vultures in Peepli Live. What has caused a decline in standards?
Khan: In India it's exploded and all of a sudden you've got about 100 channels in different languages.
Rizvi: The jostling for eyeballs is so intense that as a result the kind of journalism is not at its best. We were a welfare society until 1991, when we became globalised. Now you have to get the ratings. And they are published every week.