Dir. Anusha Rizvi, India, 2009, 106 minutes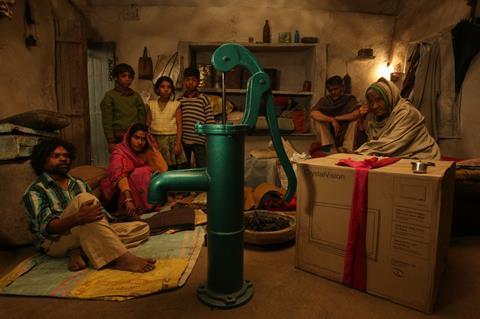 Peepli Live is a film about land ownership and suicide that makes you laugh. In her debut feature, Anusha Rizvi entertains with a bawdy take on the rural class struggle as she examines a serious injustice in India today. Her comedy is as wildly funny as it is outrageous.
Scripted with raunchy wit by Rizvi herself – formerly a journalist - and acted without sentimentality, Peepli Live is likely to play on the international festival circuit before it reaches art houses. While its widest exposure outside India is likely to remain the Indian diaspora, critics can be expected to spread the word about this film and its exciting new director.
The idea of a comedy about an epidemic of suicides might be viewed as a case study in bad taste, but the warmhearted populism of Peepli Live will probably win over anxious exhibitors.
Peepli Live has a huge cast, but its story focuses on everyman Natha (Omkar Das Manikpuri), a poor pot-smoking farmer in the village of Peepli who can't pay back his government loan and risks losing his land. Thousands of farmers in financial trouble commit suicide every year in India. When bumbling Natha learns that the government will compensate suicide victims' families with 100 thousand rupees, he considers giving it a try.
Word gets out, and the press and politicians turn his case into a frenzied spectacle, seizing on Natha's dilemma for headlines and profit. The paradox feeding Rizvi's satire is that Natha can't support his family, but the drama of his decision to kill himself for a payoff becomes the economic engine that transforms the village of Peepli into a media boomtown.
Rizvi handles her subject like a veteran director. Her tight, witty script spreads the drama around an ensemble cast and comes to life in wise earthy dialogue among the most disadvantaged characters. There's plenty of broad comedy as each character bares his or her self-interest, but Rizvi spares the viewer any didacticism.
As Natha, Omkar Das Manikpuri offers the hopelessly honest observations of a bewildered man who takes what seems like a logical step to end his life, and then can't believe what's he's set into motion. Raghubir Yadav plays his cynical opportunist of a brother for some of the film's darkest laughs. Malaika Shenoy is shamelessly vain as a TV reporter who stumbles onto a career-making story and milks it for every drop.
Production values are high throughout. Tactile would be an understatement for the look of the film, as no character's motives or most private moments go unexamined, and Rizvi takes no prisoners. DP Shanker Raman's camera takes the small village apart, much as the talented Rizvi has turned her society's hypocrisy into a broad canvas in which almost every figure stands accused.
To sign up for Screen's weekly Reviews Newsletter with all the week's new releases, international openings and full festival reviews delivered free to your mailbox every Friday, please click HERE
Production companies
UTV Motion Pictures
Aamir Khan Productions
International Sales
UTV
+ 1-310-496-5767
Producers
Aamir Khan
Kiran Rao
Co-director and casting director
Mahmood Farooqi
Screenplay
Anusha Rizvi
Cinematography
Shanker Raman
Editor
Hermanti Sarkar
Production design
Suman Roy Mahapatra
Main cast
Omkar Das Manikpuri
Raghubir Yadav
Nawazuddin Siddiqui
Shalini Vatsa
Farrukh Jaffer
Malaika Shenoy
Vishal Sharma