Festival top brass announced on Wednesday the selections that will screen in the 54th New York Film Festival's Spotlight On Documentary.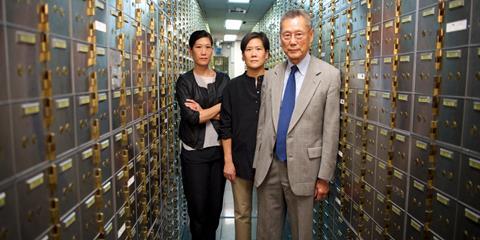 The roster includes Steve James' Abacus: Small Enough To Jail, Errol Morris' The B-Side: Elsa Dorfman's Portrait Photography, Raoul Peck's I Am Not Your Negro, and Mohamed Siam's Whose Country?
The festival runs from September 30-October 16 and as previously announced will open with Ava DuVernay's documentary The 13th.
SPOTLIGHT ON DOCUMENTARY
(All 2016 unless stated otherwise)
Abacus: Small Enough To Jail (USA) Steve James
The B-Side: Elsa Dorfman's Portrait Photography (USA) Errol Morris
Bright Lights: Starring Carrie Fisher and Debbie Reynolds (USA) Alexis Bloom and Fisher Stevens
The Cinema Travellers (India) Shirley Abraham and Amit Madheshiya — US premiere
Dawson City: Frozen Time (USA) Bill Morrison — North American premiere
Hissen Habré, A Chadian Tragedy (France-Chad) Mahamat-Saleh Haroun
I Am Not Your Negro (USA-France-Belgium-Switzerland) Raoul Peck
I Called Him Morgan (Sweden) Kasper Collin
Karl Marx City (USA-Germany) Petra Epperlein and Michael Tucker
Patria O Muerte: Cuba, Fatherland Or Death (Cuba-USA) Olatz López Garmendia
The Settlers (France-Canada-Israel) Shimon Dotan
Two Trains Runnin' (USA) Sam Pollard
Uncle Howard (USA) Aaron Brookner — New York premiere
Restless Creature: Wendy Whelan (USA) Linda Saffire and Adam Schlesinge
Whose Country? (Egypt-USA-France) Mohamed Siam.