GUEST BLOG: British Consul General Chris O'Connor celebrates an enduring and outstanding transatlantic partnership ahead of Sunday's Oscar ceremony.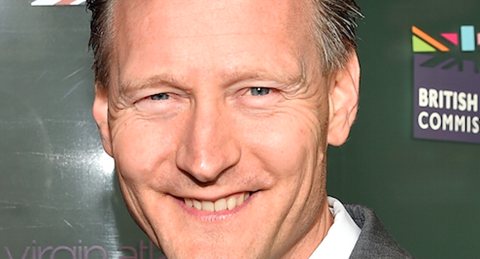 Britain and Hollywood have had a long-standing love affair. Shakespeare has been credited in 1,120 Hollywood movies. Harry Potter was an iconic Hollywood tentpole, the second-highest grossing film franchise of all time. British stories resonate with American audiences.
So do British actors. Eddie Redmayne and Charlotte Rampling are nominated this year for best actor Oscars [for The Danish Girl and 45 Years, respectively]. Kate Winslet [Steve Jobs], Christian Bale [The Big Short], Tom Hardy [The Revenant] and Mark Rylance [Bridge Of Spies] are nominated for outstanding supporting roles. British accents on the podium are now a familiar feature of the Academy Awards.
But increasingly films do not have a nationality. Creative industries span global borders and international co-productions are becoming the norm. While Brits are nominated in 21 of the 24 Oscars categories, their presence reflects collaboration, not an invasion. Looking at the 2016 Oscar nominations, British-American partnerships are everywhere. Six out of the eight best picture nominations are either co-productions or films in which top-level British directors, actors or crew worked alongside American counterparts to achieve world-class movies.
In all, 36 nominations at this year's Academy Awards are either British or British-American. The subjects of their films cover the gamut. The Danish Girl and Carol explore LGBT identities and experiences. Brit-directed The Martian and Star Wars: Episode VII – The Force Awakens, which filmed in the UK and the US, take us into space. Meanwhile iconic Bond [Spectre] has Sam Smith nominated for best original song and the moving documentary Amy takes us into the life of a superstar Brit musician.
For Brits, it is a source of pride that our talented compatriots – in front of and behind the camera – continue to be recognised. For internationalists, it is striking that so many of these successes are built on international partnerships.
This year, two British greats sadly passed away: Alan Rickman and David Bowie were legends who believed in the power of creativity. As Alan once said: "Actors are agents of change. A film, a piece of theatre, a piece of music, or a book can make a difference. It can change the world."
To be sure, much is changing in the industry. Making an impression is harder than ever. But American and British filmmakers will overcome the challenges as often in partnership as on their own.
And movies are of course big business. Films and film services are valuable exports with plenty of potential for further growth. The UK's value proposition to the world, combining top level talent with film-friendly tax credits, brought over $1.5bn of film investment into the UK economy last year. And creative companies from Warner Brothers to Disney continue to thrive and grow their UK operations, forming a core part of a British creative sector worth $14m every hour to the UK economy.
Our Consulate in Los Angeles works daily to help sow the seeds for the next generation of partnerships. The British Film Commission connects US and British producers, directors, actors and technicians. UK Trade & Investment helps US creative companies to establish branches in the UK and to grow their businesses there. Ever stronger creative partnership across the Atlantic will be good for both economies. And for movie-goers!
Brits will continue to win Oscars. As often as not they will be standing together with Americans in doing so. So as we Brits celebrate "British" wins, we're also celebrating an outstanding transatlantic partnership.
#FilmisGREAT
@CGChrisOConnor