More insights into awards-friendly titles at Venice including Tinker Tailor, Shame and Contagion.
At least two British films shone bright in competition at the Venice Film Festival. I left before Wuthering Heights played, but Steve McQueen's Shame and Tomas Alfredson's Tinker Tailor Soldier Spy are both outstanding, and certainly the latter stands a good shot in this year's awards season.
Alfredson, the Swede behind the intoxicating mood and deliberate pace of Let The Right One In, creates a similarly distinctive feel for the beautifully produced Tinker Tailor Soldier Spy – and we at Screen have been reminded insistently by StudioCanal that there are no commas in that title. The film of course is based on the John Le Carre novel about a retired intelligence agent brought back to work in the early 1970s to root out a mole in the highest echelons of the secret service, but Alfredson is not intimidated by the fame of his source book or the legendary 1979 BBC miniseries it inspired. Nothing is flashy in the film – from the lavish but un-self-conscious recreation of period to the subdued, consistent tempo and performances of the superb ensemble – and just as in Let The Right One In, the director draws you in so immediately and completely into the murky world of Cold War intrigue (with its codenames like The Circus, Karla and Control) that 127 minutes later, it's a shock to snap back to 2011.
I hope Alfredson doesn't get overlooked when it comes to discussion of awards recognition. International directors making their first steps onto the world stage – like Stephen Frears on Dangerous Liaisons or Ang Lee on Sense And Sensibility, neither of whom got Oscar nominations – can often get taken for granted, especially when big-name actors are in the same package. Here the star of the show is Gary Oldman and he is surely destined for best actor kudos for his wonderfully enigmatic George Smiley, whose unruffled face hides a good deal of turmoil.
There are some standout supporting performances from Colin Firth, Kathy Burke (in a short but sweet role), Tom Hardy, Toby Jones and Mark Strong, who for once isn't playing the arch villain. And there's a simmering score by Almodovar collaborator Alberto Iglesias which heightens the mystery.
Although TTSS has already been well-received in Venice, it's curious that US distributor Focus Features hasn't positioned it in Telluride, Toronto or New York to build a head of steam before the Dec 9 opening. Which brings me to the questions of just how culturally specific this film is and whether Americans will be remotely interested. I suggest that any adult anywhere would respond to such high quality storytelling, but I can easily imagine accusations that it is a little remote, austere and old-fashioned. One thing is for certain – BAFTA voters will lap it up, and a strong showing at the BAFTAs is highly likely, even if US voters don't relate.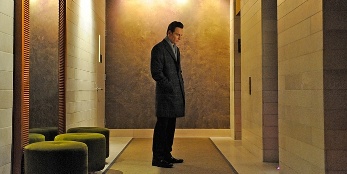 Shame confirms Steve McQueen's command of the medium and his remarkable vision: he somehow applies the singular brushstrokes of the artist onto story and mise en scene, without losing his audience in the process.
I only said that it might not stand out in end-of-year awards terms because it is way too risqué for the powerful senior citizen voting block of the Academy which would much rather stay in its own comfort zone (The King's Speech et al). Indeed it hasn't yet landed with a US distributor – a breed always shy of disturbing the peace – and might not even qualify for awards consideration in 2011, although in the UK Momentum Pictures has set a Jan 13 release date so BAFTA voters will definitely consider it.
Shame is ostensibly about a man addicted to sex and you see a lot of it on screen, even if from the start it's clear that Brandon Sullivan (Michael Fassbender) is not exactly eliciting much enduring pleasure from the act.
Once you get past the man's preoccupation – the Catholic Italian crowd in the Venice press screening giggled nervously for much of the running time – Shame is a troubling film to watch, in the same way as it was troubling to see Jeff Bridges' alcoholic collapse in a heap of his own vomit in Crazy Heart or Jared Leto spiral into a hell of drug dependancy in Requiem For A Dream.
Sex of course still remains a taboo on the big screen, certainly in English language cinema, and hats off to McQueen for exploring its psychological and emotional effects in an age when the internet enables ready access to pornographic images, live streaming action and instant hook-ups. Nor does he feel the need for a syrupy backstory for Brandon's hungry pursuits: it's enough just to touch on the damaged past which engender them.
McQueen's partner in the film of course is actor Michael Fassbender who is devastating as the gradually crumbling Brandon; he is worthy of the best actor prize at Venice and many prizes beyond.
Another Venice screening, out of competition, was Contagion, an all-star disaster movie which opens wide through Warner Bros this weekend. Steven Soderbergh's airborne virus movie – not too far removed from Irwin Allen's star-packed disaster movies of the 1970s - is an entertaining race against time in which A-list actors either fall prey to the deadly virus or battle to survive while doctors attempt to manufacture the vaccine.
It's not an awards movie, despite its patina of Syriana-style seriousness, and none of the actors have much of an arc, probably because there are way too many plotlines. The Gwyneth Paltrow/Matt Damon story is intriguing (she is one of the first victims), but she's dead before it gets interesting, Kate Winslet is promising but she doesn't last long either, Laurence Fishburne, Jennifer Ehle and an under-used Elliott Gould are the most compelling since they are responsible for finding a cure. Most easily disposable: Marion Cotillard as a kidnapped WHO worker who goes all Anna And The King Of Siam in a mountain village in Hong Kong and Jude Law as an internet conspiracy theorist. Quite why his character has to be Australian and have buck teeth is a mystery.
For all other Open Season awards blog posts, click here.