Shailene Woodley is a young woman desperately trying to reach safety in this real-life disaster movie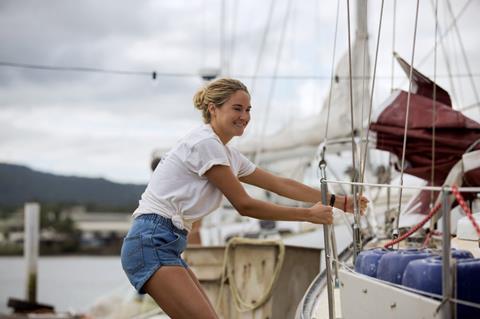 Dir: Baltasar Kormákur. US. 2018. 96mins
A battle for survival mixed with a young-adult romance, Adrift benefits from Shailene Woodley's muscular performance as a world-traveller who finds love — right before she and her boyfriend embark on a cruise that may cost them their lives. Director Baltasar Kormákur makes good use of location filming on the open waters, giving this melodramatic tale a dose of realism, but this true story is never as harrowing as the subject matter would suggest. Blame it on a misjudged narrative device and Adrift's generally adolescent approach to relationships and maritime emergencies.
As with Kormákur's previous film Everest, Adrift emphasizes the gruelling minutiae of survival
The film comes to US screens on June 1, arriving in the UK four weeks later. Woodley's track record with the Divergent films and The Fault In Our Stars will help drive interest to this STX release, which hopes to secure a commercial niche amidst a season of brawny action blockbusters.
Based on the memoir co-written by Tami Oldham Ashcraft, the movie is set in Tahiti in 1983, as American twentysomething Tami (Woodley) has just arrived on the French Polynesian island. Hungry for experiences — and not anxious to return to her San Diego hometown — she meets a sailor in his early 30s named Richard (Sam Claflin), the two instantly sharing a connection. A few months into their whirlwind romance, they're hired to pilot their friends' boat to the States, only to travel straight into the teeth of a vicious hurricane that cripples their vessel and leaves them fighting to stay alive.
In her previous work, including The Descendants, Woodley has demonstrated an ability to play empathetic, grounded young people who are intelligent and sensitive. She calls upon that skill in Adrift, which she produced, for a story that places her at the centre of the action, caring for her badly injured boyfriend while trying to navigate the damaged boat to safety.
As with Kormákur's previous film Everest, another true-life disaster story, Adrift emphasizes the gruelling minutiae of survival. (The film's makeup team does a good job illustrating how the sun and storm brutalize our main characters.) And Woodley brings a compelling realness to the physically demanding role. Tami is smart and resourceful, but she's no superhero, and Woodley communicates her character's resolve, vulnerability and concealed panic while confronting the growing concern that they may starve before help arrives.
Kormákur breaks up Adrift's chronology, cutting back and forth between the present (as the couple are marooned in the Pacific Ocean) and the past (as we see their courtship and what led them to this fateful high-seas excursion). Initially, the intercutting proves intriguing, building suspense to the inevitable moment when we'll finally witness the mighty hurricane that wrecked Tami and Richard's boat. Plus, it's mildly interesting to juxtapose the early days of their relationship with the terror of the storm's aftermath, as Richard clings to life and Tami tries to pilot them to any nearby island.
Unfortunately, the hopping back and forth ultimately undercuts both narrative threads — crucially, because we don't spend enough time with the couple to really get a sense of their dynamic. As a result, Adrift has the lightweight lovey-dovey drama of a mediocre teen romance, which diminishes the genuine stakes of the real story, reducing it to a simplistic tear-jerker.
That said, Woodley and Claflin have a warm, flirty chemistry when the script gives them an opportunity, although Claflin's character gets duller as Adrift sails along. Oscar-winning cinematographer Robert Richardson capably captures the vastness of the empty ocean around the imperilled Tami and Richard, and the effects team competently conveys the impact of a hurricane on a small boat, leading to a momentarily rousing sequence. But only Woodley's commitment to the grit beneath Adrift's dewy, tragic-romance gloss suggests the gutsier, more grown-up film that could have been.
Production companies: STXfilms, Huayi Brothers Pictures, Ingenious, RVK Studios
US/UK distribution: STX Entertainment
Producers: Baltasar Kormákur, Aaron Kandell, Jordan Kandell, Shailene Woodley
Screenplay: Aaron Kandell & Jordan Kandell and David Branson Smith, based on the book by Tami Oldham Ashcraft with Susea McGearhart
Production design: Heimir Sverrisson
Editing: John Gilbert
Cinematography: Robert Richardson
Music: Volker Bertelmann
Cast: Shailene Woodley, Sam Claflin