Dir: Declan Lowney. UK. 2013. 90mins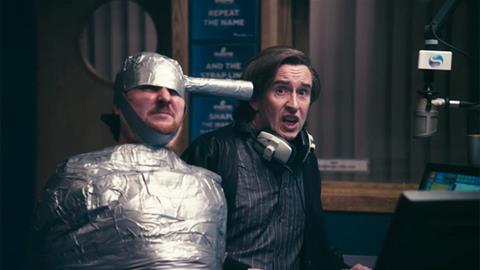 Norfolk's most famous fictional radio and television presenter Alan Partridge (played as always with sublime and often hilarious ease by Steve Coogan) makes the transition to the big screen. It would be a dream come true for the egotistical and insecure Partridge whose lust of status and public profile are everything, and for audiences (especially those fans of the character) the wittily scripted Alan Partridge: Alpha Papa is a joy, offering up more quotable lines and amusingly surreal Partridge moments.
The smart and pacy script offers not only a series of great one-liners for Coogan to make the most of, but also plenty of subtle gags – both visual and verbal – that may only be fully appreciated a second time around.
The characters, storyline and backdrop are resolutely British, with the film self-consciously making no concessions to 'open up' to American or international audiences, but in truth this works in its favour with the script sticking to the core values and subversive humour that made Coogan's Alan Partridge character such a cult figure. The film had a lunchtime premiere in Norwich (Partridge's home town and where he made his name on radio) prior to the London launch event, and opens in the UK on August 7.
By its very nature the film's initial key audience will be the British fans (who are many) and its summer release slot will be aimed to mining an audience ready for summer holidays and a dose of off-the-wall humour. Coogan's name and the character's cult status could well help in other territories (especially those who favour British humour), but it is likely international distributors will be keeping an eye on UK numbers before making firm decisions. In the UK, reviews and the ever-unpredictable weather will be key factors.
Alan Partridge was created by Coogan and writer Armando Iannucci (with input from other writers) initially for the BBC Radio 4 programme On The Hour in 1991, aimed as a parody of chat show presenters, DJs and sports commentators. Later switching to television – with The Day Today and Knowing Me Knowing You With Alan Partridge (both in 1994) – the character has been a mainstay of British broadcasting ever since, and despite Coogan working on many other film and television projects his fondness for the character has always been there, and more recently Partridge has starred in web series titled Mid Morning Matters With Alan Partridge.
In Alan Partridge: Alpha Papa, he is back at his spiritual home, working as presenter on Mid Morning Matters (with his sidekick Simon, delightfully underplayed by Tim Key) at radio station North Norfolk Digital. But there are changes in the air, with new management planning on changing the name of the station to 'Shape' and rumours going round that some of the older presenters may face the axe.
Late night DJ Pat Farrell (Colm Meaney) asks Alan to talk to management, but when he sees his own name on a bit of paper as being a possible to be cut he panics and makes an argument for Pat to be sacked instead. Alan is so self-centred that he doesn't care, but things take a turn for the worse when during a party at the station Pat returns with a shotgun and take the employees hostage.
Alan, who happens to have wandered outside when Pat first took over the building, is recruited by local police as the only hostage negotiator Pat will talk to (again feeding his ego), and re-enters the building wearing a flak jacket muttering the line "welcome to big school".
But despite requests from police and the hostages themselves that Alan try and sort out a truce, he finds himself relishing the chance to be truly in the limelight as the television coverage intensifies and he is identified as the 'face of the siege'. As always, ego is everything for Alan Partridge.
He even finds himself bonding with Pat Farrell – the pair have a shared loved for old time chat show styles and music – with the climax seeing the pair making a very slow bid for freedom in the old road show radio station bus, broadcasting as they head towards Cromer Pier, waving to crowds and relishing their chance for fame. Naturally enough, though, Alan has forgotten he was the one who got Pat sacked in the first place, with the scene set for a face-off at the end of the pier.
Long time fans of the series will be pleased with regular characters such as Alan's long-suffering personal assistant Lynn (Felicity Montagu) and security guard Michael (Simon Greenall) play key (though relatively small) parts, while sidekick Simon gets some of the best laughs (especially since he gets bound in tape by Pat, who has a 'gun holder' for the shotgun strapped to his head) as he and Partridge keep on presenting their show during the siege.
The smart and pacy script offers not only a series of great one-liners for Coogan to make the most of, but also plenty of subtle gags – both visual and verbal – that may only be fully appreciated a second time around. Steve Coogan knows the character so well that he is able to bring a real subtly to the quirks and idiosyncrasies of the Alan Partridge. The character isn't a nice man or even a particularly good man…but he is a funny and sad man defined by his hang-ups, paranoias and lack of real self-confidence, and all the funnier for it.
Production company: Baby Cow Films
International sales: StudioCanal, www.studiocanal.com
Producers: Kevin Loader, Henry Normal
Executive producers: Steve Coogan, Neil Gibbons, Rob Gibbons, Armando Iannucci, Christine Langan, Joe Oppenheimer, Danny Perkins
Screenplay: Peter Baynham, Steve Coogan, Neil Gibbons, Rob Gibbons, Armando Iannucci
Cinematography: Ben Smithard
Editor: Mark Everson
Production designer: Dick Lunn
Main cast: Steve Coogan, Colm Meaney, Felicity Montagu, Nigel Lindsay, Tim Key, Anna Maxwell Martin, Sean Pertwee, Simon Delaney, Darren Boyd, Phil Cornwell, Simon Greenall