Dirs: Tim Pearce, Sophie Lascelles, Marc Tiley. UK. 2011. 97mins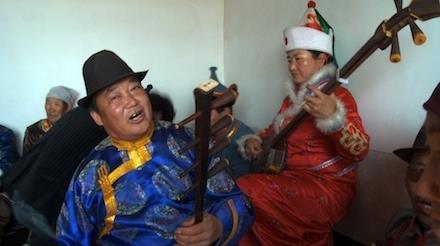 Anda Union: From The Steppes To The City follows a 10-member band of young Mongolians playing some lively traditional music around the vast grasslands of Inner Mongolia (the Chinese autonomous region, as opposed to Outer Mongolia, which is an independent state).
Anda Union is a fairly colourful, low-budget travelogue.
A low-budget travelogue, this should be of great interest to those who are already hooked on folk music, or Mongolia itself. Widening the audience base could be tough as the film currently stands, however, with most international viewers benefitting from some scene-setting towards the beginning of the picture, as opposed to its end.
Directors Tim Pearce, Sophie Lascelles and Marc Tiley somewhat drop the audience into Inner Mongolia's Ho Hohot (the blue city) without a GPS before proceeding on to such exotically-named locales as the Ordos, Heshigten or Ongniud Grasslands as the band embarks on some sort of national tour which involves visiting their families (a trip of 10,000km in 33 days, according to the end credits, during which time 37 sheep were killed and consumed).
In fact one of the standout sequences of Anda Union (the name of the band) is a sheep-killing process which is quite breathtakingly in-your-face – even given the current trend for halal verite - as a Mongolian shepherd cuts open the animal and inserts his hand to squeeze its heart to a stop.
Anda Union, seemingly led by the open-faced Nars (who is about to get married) specialises in the distinctive, gravel-edged sounds of their home country. The use of reeds sometimes lends the music an Australian aboriginal air, again, at times, a Peking Opera element comes to the fore. But this mostly feels like the stirring sound of centuries ago, all the way back to Genghis Khan and the unification of the Mongol tribes.
It would appear that these airs have been given a modern twist by the Anda Union crew in such tracks as 10,000 Galloping Horses and, indeed, it might have been interesting to hear more about this, but Pearce (also Anda Union's manager), Lascelles and Tiley take a fly-on-the-wall approach as the musicians visit their families, yurts are erected, and hordes of sheep face judgment day.
There are 10 members of the band, and some, such as Urgen, whose brother died prematurely, or the drummer Hadanbaatar, a lively fellow, are more dynamic than others. Chubby singer Othonbayar, meanwhile, can't even find his own house. In between the trips, the musicians perform their songs to an unseen audience which, again, gives it a somewhat disembodied air.
Screened at the London Film Festival, where the print pixilated very noticeably at the onset before eventually stabilising, Anda Union is a fairly colourful, low-budget travelogue which is technically undistinguished. It should find a welcome on broadcast networks eventually, however, with a few narrative tweaks to make it more accessible for those new to the region.
Production companies: Eye 4 Films, EM Media
Producers: Sophie Lascelles, Tim Pearce
Executive producer: Suzanne Alizart
International sales: c/o Tim Pearce, tim.pearce@eye4films.com
Cinematography: Ula Pontikos
Editor: Richard Graham
Featuring: Nars, Chinggel, Saikhannahkaa, Biligbaatar, Chinggel, Otgonbayar, Urgen, Monkhjayaa, Hadanbaater, Tsetsegmaa