From women in animation to hot debuts, Screen previews the festival.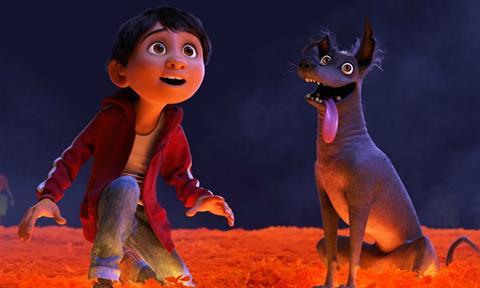 The Annecy International Animated Film Festival (June 12-17) opens today. Screen runs through five key things to look out for.
1. Key debuts
Annecy will host first-look footage of Pixar's upcoming title Coco (pictured) and showcase the world premiere of Universal's Despicable Me 3, two of the most anticipated animation movies of the year. The level of buzz will be telling.
The response to Animal Crackerz, the starry Spanish-US co-pro, will also be intriguing.
At the other end of the financial spectrum, the festival will host the premiere of Dorota Kobiela and Hugh Welchman's Loving Vincent, which is billed as the world's 'first fully-painted feature film'. The biopic of Vincent Van Gogh was made by 125 painters producing more than 60,000 oil paintings. In advance of the Annecy premiere, the film's trailer racked up 2.6m views on YouTube.
2. Women in animation summit
Women are estimated to have well over 55% of the production management jobs in the global animation industry but less than 30% of the creative jobs. Pressure group Women In Animation (WIA) has set a target of 50/50 gender balance in "creative leadership roles" by 2025.
Annecy is hosting the first ever "women in animation" summit (June 12), which will be exploring "unconscious bias" in the industry.
"My experience is that it is not an obvious, overt bias but if you look at the numbers, there are so many women that study animation and aspire to be part of the industry – probably on average 60-65% of student bodies are female – and yet when you view the numbers in the creative world in the industry, it is only in the 20s [in percentage terms]," says one of the speakers at the event, Marge Dean, general manager and supervising producer at US outfit Stoopid Buddy Stoodios (Robot Chicken).
Dean's own experiences are instructive. She studied experimental film and video and might have pursued a creative career. "But I was steered away from going into the creative [world] and guided and supported to go toward production management."
"We need to attack it from all different angles. In Los Angeles, we have tremendous support from the studios," says Dean. "We are working with them to figure out ways to facilitate the growth of women in creative roles. Our main push for diversity across the board is that it will make animation better; it will make our storytelling better and it will make our culture better."
3. Chinese presence
China is Annecy's 'Guest Country' and throughout the festival new Chinese animation will be foregrounded and there will be opportunities for delegates to learn about funding, coproduction and distribution opportunities in the Chinese market. The festival programmers are talking up the 'new generation' of Chinese animators and will showcase some intriguing new work from the country.
Among highlights will be Tea Pets, the latest feature from Gary Wang's Beijing-based animation outfit Light Chaser, which is billed by some as 'the Pixar of China'. Screening out of competition, this is a yarn about the figurines that are 'pets for tea drinkers'. When they have tea poured on them, their colour changes.The film follows one of the 'tea pets' on a journey into the future with a little robot.
Annecy is also presenting Princess Iron-Fan. Made in 1941 at the height of the Second World War by the Wan brothers, this is a rarity from the archive and it is billed as the first ever Chinese animated feature. Influenced by Disney (the directors had seen and been bowled over by Snow White), it's an epic tale about travellers heading west in search of a sacred Buddhist text.
One film which was due to screen but now won't is edgy Berlin entry Have A Nice Day which has been withdrawn following Chinese government pressure.
4. Sony, Glen Keane masterclasses
Among hot tickets will be the keynote by Sony Pictures Animation president Kristine Belson (How To Train Your Dragon), who oversees the development and production of all films in the division.
The former DreamWorks Animation and 20th Century Fox executive will share her career path from story analyst to Oscar-nominated producer and detail her development process and vision for the studio, which is upping its output from one feature every 18 months to three feature films, two series, a short and a direct to video in 2017 alone.
Also of interest will be the keynote from Glen Keane, one of the towering figures in recent animation history, whose credits for Disney include The Little Mermaid, Tangled and Pocahontas. He will be in Annecy to give a masterclass and to present his new film, Dear Basketball, on which he collaborated with former NBA star Kobe Bryant and composer John Williams.
5. VR@ Annecy/Google Spotlight
One treat in store from Google Spotlight and the UK's Passion Pictures in the festival's VR sidebar is the 360-degree interactive VR pop promo Saturnz Barz from band Gorillaz.
Google Spotlight Stories will also have a sneak preview of part of its new Mexican wrestling-themed VR short directed by Jorge Gutierrez, and a work-in-progress screening of its immersive, experimental short, Sonaria, directed by Scot Stafford and Kevin Dart.
"Annecy is just animation paradise," enthuses Karen Dufilho, executive producer at Google Spotlight. "You're walking around the streets. There are students next to you and Bonnie Arnold [president of feature animation at DreamWorks Animation] commingling…over the long run, the conversations you start at Annecy, you finish elsewhere."