Sony's animation continues to impress on £2m, seeing off holdovers Sherlock Holmes and Alvin and the Chipmunks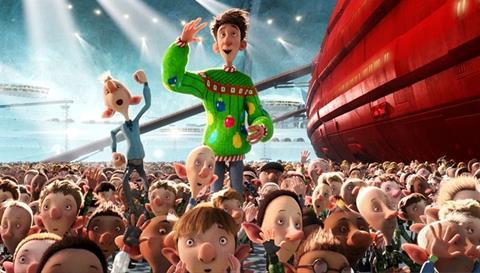 Sony's animation Arthur Christmas continued on its remarkably resilient run in the UK, posting a Christmas weekend total of £2m – a 52% week-on-week increase - from 549 screens at an impressive average of £3,729.
While the slow-burner has only topped the UK chart twice during its seven-week run it has crossed the £1m mark each frame, a feat only matched this year by The King's Speech, which crossed £1m on nine consecutive weekends.
Despite not reaching the heights of Aardman's Chicken Run or Wallace and Gromit, the Christmas hit has been aided by a smart release strategy and weak opposition, and has now taken £19.7m and stands as the 12th biggest film of the year. Another solid holiday weekend is expected this coming frame.
Holdovers Sherlock Holmes: A Game Of Shadows and Alvin and The Chipmunks: Chipwrecked dropped to second and third respectively.
Warner Bros' sequel added £1.7m from a week-high 553 screens. The 2009 original opened a week earlier and stood £3m ahead of Game of Shadows after its second weekend. Going forward Guy Ritchie's action-adventure will face strong competition from Mission Impossible: Ghost Protocol and The Girl With The Dragon Tattoo for the key 18-30 demographic.
Reliance's sixth-placed Don 2 was the only opener to grace the top ten, making £319,499 from only 76 screens at a week-high screen average of £4,204. The star-studded action improved on the 2006 original, which opened on £291,462 from 51 screens on its way to £1.4m.
New Year's weekend sees a wide release for Sony's The Girl With The Dragon Tattoo and Entertainment's The Lady, a West End-opening for Oscar hopeful The Artist and a saturation rollout for Paramount's Mission Impossible: Ghost Protocol.