Dir/scr: Ramin Bahrani. US. 2012. 105mins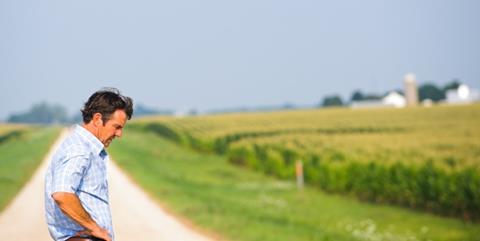 The moral compass of a modern-day American farming family goes rampantly off-course in Ramin Bahrani's wonderfully performed though dramatically uneven film, which trades on generational conflict, contemporary farming techniques and moral mis-steps set against the stunning backdrop of the sweeping Southern Iowa cornfields.
Zac Efron's brooding good looks work well for the role of Dean, and the moments when he and Dennis Quaid are together the film really comes to life.
The impressive backbone to the film is Dennis Quaid's mesmerising performance as Henry Whipple, a genial but complex character obsessed with sustaining the family legacy of his extensive farm. His moral compass is shown to be dodgy in an opening scene, where he attends a funeral in an attempt to buy land off a grieving family, but after that its spins wildly out of control. The film screened in competition at the Venice Film Festival.
Director Ramin Bahrani (who made Man Push Cart and Goodbye Solo), working from an admirably thoughtful script co-written with Hallie Elizabeth Newton, aims to dwell on complex characters faced with tough decisions, and while there are some wonderful dramatic moments at times there are just too many minor characters struggling to make an impact. But Quaid makes the film always watchable, and is the perfect fit as an easy-going farmer struggling to keep a smile on his face.
Henry has lived by the credo of 'expand or die' and looked to by land to secure the family farm. But his oldest son is away travelling and doesn't look like coming home while younger son Dean (Zac Efron) wants to be a NASCR driver to escape his rural existence. Dean sees his father's dubious ethics first hand and doesn't want to drawn into his world, but at the same time is loyal to his mother Irene (Kim Dickens) and aware of his place within the small-town world.
Henry cheats on his wife with former cheerleader Meredith (Heather Graham), but is more about the ritual of his life than lack of love for his wife and is more interested in talking about his agricultural success them the sex.
Grumpy Dean (Efron rarely gets to smile here) gets his big chance to prove his driving talents, but an unnerving track incident sees him lose his nerve and is faced with reassessing his future. He pushes away young girlfriend Cadence (a lovely debut by Maika Monroe) and has a sexual encounter with Meredith, but more importantly finds himself drawn to his father's side as he tries to fend off a seed company investigating his working practices.
His new found determination leads him to a dramatic incident that while finally bringing father and son together also locks them into a moral decision that sees them complicit in a dark secret. The final scenes play on Henry's face as he realises the road he has taken, though frustratingly the film never places any real sense that Whipple father and son have deep regret or remorse and are certainly never brought to account for their actions.
The film is littered with charming moments – best of all is when Henry takes Cadence on a work trip to try and sell seeds, with her immediately coming to grips with the business – though some characters are thinly drawn despite strong possibilities. Heather Graham seems stuck in the 'beautiful yet frustratingly wanton woman' roles when she deserves far more, and Kim Dickens is given little to do apart from be the loyal wife.
Zac Efron's brooding good looks work well for the role of Dean, and the moments when he and Dennis Quaid are together the film really comes to life, especially given that the core of the film is their brittle relationship that is finally resolved through a violent act. The agricultural backdrop is an unusual one and helps set the film apart, but in the end At Any Price lacks the emotional pay-off the story deserves.
Production companies: Black Bear Pictures, Treehouse Pictures, Killer Films, Noruz Films
International sales: Exclusive Media, www.exclusivemedia.com
Producers: Kevin Turen, Teddy Schwartzman, Justin Nappi, Pamela Koffler, Christine Vachon, Ramin Bahran Executive producers: Ron Curtis, Mohammed Al Turki, Eric Nyari, Brian Young
Screenplay: Ramin Bahrani, Hallie Elizabeth Newton
Editor: Affonso Goncalves
Cinematography: Michael Simmonds
Production designer: Chad Keith
Music: Dickon Hinchliffe
Main cast: Dennis Quaid, Zac Efron, Maika Monroe, Kim Dickens, Heather Graham, Clancy Brown, Red West, Ben Marten, Dan Waller, Chelcie Ross