Marvel's superhero epic closes in on $50m; Universal's American Pie: Reunion records a franchise high debut.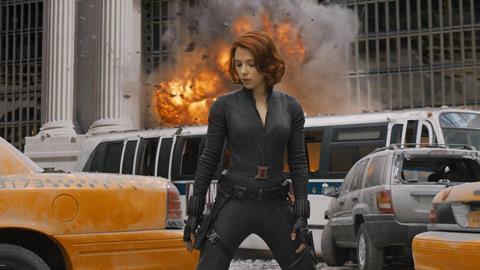 In the battle of the team-ups this week at the UK box office, The Avengers - Marvel Avengers Assemble in the UK - held off a determined challenge from American Pie: Reunion to retain its box office crown for a second consecutive week.
Following its epic, record-breaking opening in the US, Disney's superhero behemoth fought its way to an estimated further $12.9m (£8.0m) to stand at a massive $48.1m (£29.8m) after just eleven days in play.
It's now the UK's highest grossing film of the year to date and its sixth best performer of the last 52 weeks, with Pirates Of The Caribbean: On Stranger Tides, TheHangover Part II and The Twilight Saga: Breaking Dawn - Part 1 in its sights to easily overtake in the next week. It's also the biggest grossing Marvel film in the UK, having overtaken Iron Man 2's $34.2m (£21.2m) in its first week.
Boosted by two days of previews, Universal's American Pie: Reunion was the week's highest new entry, narrowly behind The Avengers with a highly impressive $10.2m (£6.3m) debut from its 485 sites. That opening marks the best ever debut at the UK box office for the American Pie franchise, beating the $8.9m (£5.5m) opening salvo of American Pie 2 back in 2001 although that film did open on less sites (420).
Combined, The Avengers and American Pie: Reunion accounted for a whopping 72% of the entire UK box office this week.
The latest adaptation of a Nicholas Sparks' novel, The Lucky One charted third with a $1.9m (£1.2m) opening including previews. Warner Bros' romantic drama, starring Zac Efron, topped the $1.8m (£1.1m) bow of recent Sparks' adaptation The Vow - although it's worth noting that The Vow's opening didn't involve previews -but fell short of the $3.2m (£2.0m) debut of Dear John in 2010.
For Efron, The Lucky One's opening is up on his previous solo effort Charlie St. Cloud which took $1.0m (£643,368) on its way to $2.6m (£1.6m) overall.
Disney's 3D re-release of the much-loved classic Beauty And The Beast waltzed its way to fourth thanks to a $1.1m (£685,000) opening weekend. The result is some way down on the $4.4m (£2.8m) debut enjoyed by The Lion King 3D last October, which had a slightly wider release (416 to Beauty's 357).
Another new entry rounded off this week's top five in the form of Momentum's Safe which stole its way to $1.1m (£676,708) to chart fifth, narrowly behind Disney's 3D re-release. Including Bank Holiday Monday, the latest Jason Statham action-thriller is closing in on $1.6m (£1m) and stands at $1.5m (£921,000).
Lionsgate's adaptation Salmon Fishing In The Yemen lost its hook on the top five in its third week, dropping to sixth with a $1.0m (£639,000) weekend to stand at $7.6m (£4.7m).
This week sees saturation releases for Warner Bros' Dark Shadows, Lionsgate's How I Spent My Summer Vacation and Entertainment's Piranha 3DD. StudioCanal's All In Good Time and Paramount's Jeff, Who Lives At Home both receive wide releases.
For more of Screen's box office news, analysis and charts, visit our new Box Office section by clicking the icon below.