Two of Hollywood's most prominent African-Americans used the Martin Luther King Jr public holiday in the US to declare they will stay away from the 88th annual Academy Awards on February 28 as the #OscarsSoWhite backlash gathered momentum.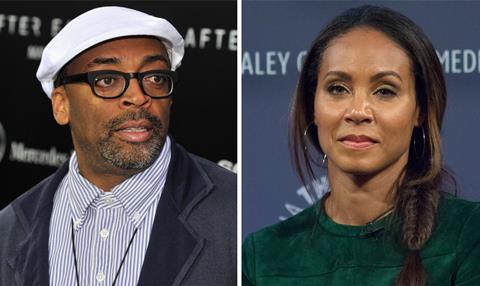 In the second consecutive year of all-white Oscar acting nods, the industry will be watching closely to see if Monday's statements by Spike Lee and Jada Pinkett Smith spark further boycotts from the African-American and Latino communities.
Some members of these communities have expressed publicly their sense of feeling slighted over being left out of an all-white roster of acting nominees.
"As I See It, The Academy Awards Is Not Where The "Real" Battle Is, [sic]" Lee posted on Instagram on Monday. "It's In The Executive Office Of The Hollywood Studios And TV And Cable Networks."
The filmmaker, who directed Chi-raq last year and attended an Academy ceremony last November to collect an honourary Oscar, was responding to last Thursday's Oscar nominations in which a number of strong non-white contenders were shut out.
His Instagram post turned attention towards the studios and networks, whom he called the "gatekeepers" of Hollywood. Academy president Cheryl Boone Isaacs is African-American. The host of this year's ceremony will be the outspoken black comedian Chris Rock.
Pinkett Smith's husband Will Smith was one of several African-Americans considered to be in contention for honours yet the Academy did not recognise his lead performance in Concussion.
Similarly, Michael B Jordan got nothing for his lead role in Creed, nor Samuel L Jackson for The Hateful Eight. Creed writer-director Ryan Coogler was also shut out, while the N.W.A. biopic Straight Outta Compton was overlooked in the best picture category. It did earn one award for original screenplay – written by Caucasians.
Idris Elba, a Briton of African descent, was overlooked for his widely admired performance in Beasts Of No Nation, which itself did not earn a best picture nomination.
Latino flag-bearer Benicio del Toro was shut out of the supporting actor category despite an acclaimed performance in Sicario. It should be noted that Alejandro G Iñárritu, a Mexican, earned directing and best picture (as producer) nods for The Revenant.
Lee earned an original screenplay Oscar nomination in 1990 for Do The Right Thing.
Lee: "We can't act?! WTF!!"
Lee's full Instagram post read as follows:

"I would like to thank president Cheryl Boone Isaacs and the Board of Governors of the Academy of Motion Pictures Arts and Sciences for awarding me an honorary Oscar this past November. I am most appreciative.
"However my wife, Mrs. Tonya Lewis Lee and I will not be attending the Oscar ceremony this coming February. We cannot support it and mean no disrespect to my friends, host Chris Rock and producer Reggie Hudlin, president Isaacs and the Academy.
"But, how is it possible for the 2nd consecutive year all 20 Contenders under the actor category are white? And let's not even get into the other branches. 40 white actors in 2 years and no flava at all. We can't act?! WTF!!
"It's no coincidence I'm writing this as we celebrate the 30th anniversary of Dr. Martin Luther King Jr's birthday. Dr. King said "There comes a time when one must take a position that is neither safe, nor politic, nor popular but he must take it because conscience tells him it's right".
"For too many years when the Oscars nominations are revealed, my office phone rings off the hook with the media asking me my opinion about the lack of African-Americans and this year was no different.
"For once, (maybe) I would like the media to ask all the white nominees and studio heads how they feel about another all white ballot. If someone has addressed this and I missed it then I stand mistaken.
"As I see it, the Academy Awards is not where the "real" battle is. It's in the executive office of the Hollywood studios and TV and cable networks. This is where the gate keepers decide what gets made and what gets jettisoned to "turnaround" or scrap heap. This is what's important. The gate keepers. Those with "the green light" vote.
"As the great actor Leslie Odom Jr. sings and dances in the game changing broadway musical HAMILTON, "I WANNA BE IN THE ROOM WHERE IT HAPPENS". People, the truth is we ain't in those rooms and until minorities are, the Oscar nominees will remain lilly white.
Pinkett Smith: "We are powerful"
Pinkett Smith posted a video on Facebook in which she said: "Today is Martin Luther King's birthday and I can't help but ask the question is it time that people with colour recognise how much power, influence that we have amassed that we no longer need to ask to be invited anywhere.
"I ask the question have we now come to a new time and place where we recognise that we can no longer beg for the love, acknowledgement or respect of any group. That maybe it's time we recognise that if we love and respect and acknowledge ourselves in the way in which we're asking others to do that that is the place of true power. I'm simply asking the question.
"Here's what I believe. The Academy has the right to acknowledge whomever they choose, to invite whomever they choose and now I think that it's our responsibility now to make the change. Maybe it is time that we pull back our resources and we put them back into our communities, into out programmes and we make programmes for ourselves that acknowledge us in ways that we see fit, that are just as good as the so-called mainstream ones.
"Begging for acknowledgement, even asking, diminishes dignity and diminishes power and we are a dignified people and we are powerful and let's not forget it. So let's let the Academy do them with all grace and love and let's do us differently."
Pinkett Smith signed off by saying she will neither attend nor watch the ceremony and wished show host Chris Rock well on the night.