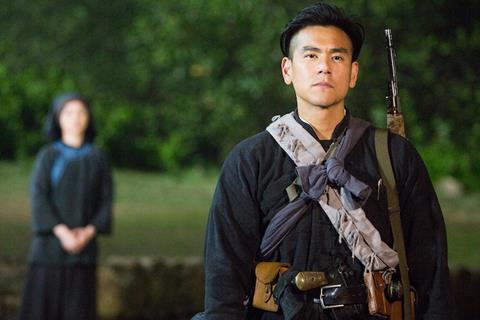 Ann Hui's period drama Our Time Will Come was the big winner at this year's Hong Kong Film Awards (April 15), taking five prizes including best film and best director.
The film (pictured), about Hong Kong's resistance to Japanese occupation during the Second World War, also won best supporting actress for Deanie Ip's performance, best art direction (Man Lim-chung, Billy Li) and best original film score (Joe Hisaishi). Hisaishi was also awarded best original music for the film at the Asian Film Awards last month.
Louis Koo scooped the best actor award for action title Paradox, for which he also won best actor at the Asian Film Awards. Indian superstar Aamir Khan was on hand to present him with the award. Paradox was the second biggest winner overall with three awards, also including best action choreography and best sound design (see full list of winners below).
Best actress went to Teresa Mo for Tomorrow Is Another Day, which also won best new performer for Ling Man-lung's performance. Philip Keung took best supporting actor for action title Shock Wave.
The best screenplay award went to Sylvia Chang for Love Education, while gangster film Chasing The Dragon picked up two awards for best cinemtography and best film editing.
Best film from the mainland and Taiwan went to The Great Buddha+, directed by Taiwan's Huang Hsin-yao, which has already won a slew of awards at the Asian Film Awards, Golden Horse Awards and Taipei Film Festival.
HONG KONG FILM AWARDS 2018
FULL LIST OF WINNERS:
Best Film – Roger Lee, Stephen Lam, Ann Hui, Our Time Will Come
Best Director – Ann Hui, Our Time Will Come
Best Screenplay – Sylvia Chang, You Xiaoying, Love Education
Best Actor – Louis Koo, Paradox
Best Actress – Teresa Mo, Tomorrow Is Another Day
Best Supporting Actor – Philip Keung, Shock Wave
Best Supporting Actress – Deanie Ip, Our Time Will Come
Best New Performer – Ling Man-lung, Tomorrow Is Another Day
Best Cinematography – Jason Kwan, Chasing the Dragon
Best Film Editing – Li Ka-wing, Chasing the Dragon
Best Art Direction – Man Lim-chung, Billy Li, Our Time Will Come
Best Costume & Make Up Design – Bruce Yu, Lee Pik-kwan, Journey to the West: The Demons Strike Back
Best Action Choreography – Sammo Hung, Paradox
Best Original Film Score – Joe Hisaishi, Our Time Will Come
Best Original Film Song – An Unheard Melody, Concerto of the Bully (Composer: Peter Kam)
Best Sound Design – Kinson Tsang, George Lee, Paradox
Best Visual Effects – Henri Wong, Eric Xu, Wu Kong
Best New Director – Kearen Pang, 29+1
Best Film from Mainland and Taiwan – The Great Buddha+
Professional Achievement – Pauline Yeung
Lifetime Achievement Award – Chor Yuen