Dirs: Declan Donnellan & Nick Ormerod. UK. 2011. 102mins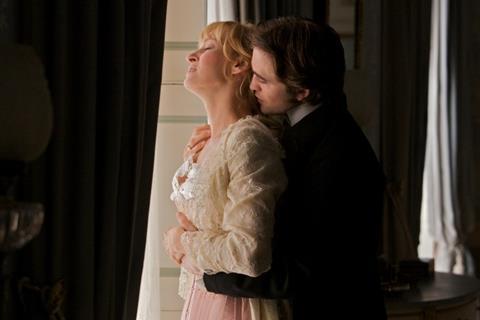 A lush and impressively assembled adaptation of Guy de Maupassant's novel about a charming cad who rises through the Parisian high society of the Belle Époque by wooing women useful to his cause, Bel Ami stutters rather than glides and while punctuated by some impressive performances and a fine sense of design it can never quite find the right balance between its twin storylines of seduction and politics.
Bel Ami has the feeling of a film that can't quite decide on its structure and central story.
Reluctant heartthrob Robert Pattinson makes a brave stab at the immoral and manipulative Georges Duroy – the 'Bel Ami' of the title – and while his good looks and intense charisma may win over Twihards, the film may have a tough task finding an easy marketplace. Kristin Scott Thomas and Christina Ricci impress as Parisian ladies who are won over by Duroy's charm, though Uma Thurman as his Machiavellian equal lacks the charm to convince in her demanding period role. R-Patz fans seeking a bodice-ripping costume romance will be disappointed.
But the film may well find a market in the harder-to-break area of the older generation who may well appreciate the film's political complexities and graceful design.
Guy de Maupassant's 19th century novel has been adapted for the screen before, most famously in Albert Lewin's stylish 1947 film The Private Affairs Of Bel Ami, which starred a cultured George Saunders in the lead role (and included Angela Lansbury and Ann Dvorak as some of the women left in his wake). This adaptation is jointly directed by Declan Donnellan and Nick Ormerod, making their feature debut, who are known in theatrical circles for founding the avant garde theatre company Cheek by Jowl.
In Paris of the 1890s, George Duroy (Pattinson) has recently returned from serving in the French Army in Algeria. Down to his last few francs, he bumps into Forestier (Philip Glenister), an older man who he knew in the Army who now is political editor at La Vie Francaise newspaper and who invites George to a dinner party at his house.
The cream of Paris society is at the dinner – including demure Madame Rousset (Kristin Scott Thomas), whose husband (Colm Meaney) runs the paper and sweet Clotilde (Christina Ricci) – and Georges finds himself encouraged to write about his Army exploits by Forestier's wife Madeleine (Uma Thurman), an ambitious and determined woman who has strong views about the political situation in North Africa.
With Madeleine's help he writes an article that is accepted by the newspaper, and taken onto the payroll he sets out to seduce the married Clotilde. In love with him, she eventually breaks off the relationship, and Georges sets about romancing Madame Rousset before eventually setting his sights on Madeleine, whose husband is very ill. He marries her but finds himself out of the loop in terms of political machinations being plotted by Monsieur Rousset and the new foreign minister.
With his world unraveling, George turns to what he does best, and after divorcing Madeleine (who has been having an affair with the foreign minister) he sets his sights on Rousset's teenage daughter Suzanne (Holliday Grainger) as his way of securing his position back in society.
In many ways Pattinson looks perfect as George Duroy (the original book describes him as "tall, well-built, fair with blue eyes"..) though for some reason the filmmakers have chosen to ignore one of the literary character's key aspects…his 'curled moustache', something that Guy de Maupassant referred to regularly in the book.
Certainly Pattinson has the innate charm to work as Duroy, but somehow the Declan Donnellan and Nick Ormerod don't make good use of him, with his character initially underdeveloped and then simply used as a rather simplistic cad, out of his depth in society despite a talent for dressing well. Christina Ricci is suitably sweet and pliable as Clotilde, while Kristin Scott Thomas is impressive as the vulnerable Madame Rousset.
While a striking figure on screen Uma Thurman seems rather awkward as Madeleine, and while she looks the part, there is little chemistry between her and Pattinson. The pair also have to share an incredibly poorly staged sex scene, that does neither of them any favours. As usual, Colm Meaney is a terrific presence and is memorable as the conniving newspaper owner.
Bel Ami has the feeling of a film that can't quite decide on its structure and central story. The slight overuse of close-up helps none of the cast and compromises a look that should be rich and opulent, while the ending is rather too overlayered when it could be simpler.
Production companies: Ingenious Fuller Partnership, Bel Ami Distribution
International sales: Protagonist Pictures, www.protagonistpictures.com
Producer:Uberto Pasolini
Executive producer: Simon Fuller
Screenplay: Rachel Bennette, based on the novel by Guy de Maupassant
Cinematography: Stefano Falivene
Editor: Masahiro Hirakubo
Production designer: Attila F. Kovacs
Music: Lakshman Jospeh de Saram & Rachel Portman
Main cast: Robert Pattinson, Uma Thurman, Kristin Scott Thomas, Christina Ricci, Colm Meaney, Philip Glenister, Holliday Grainger