Bafta-winning writer/director Amma Asante returns with an unusual period drama. Wendy Mitchell visits the set of Belle, which is produced by Damian Jones and sold by Bankside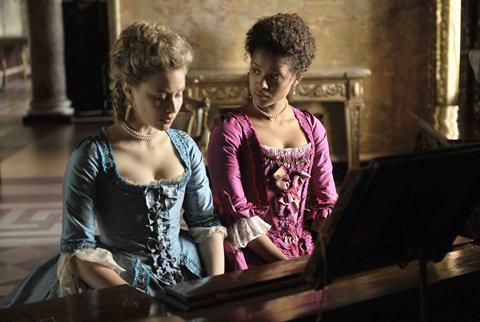 It all started with a painting. Producer Damian Jones (The Iron Lady) got the idea for the project that would become Belle when he saw a 1779 painting of Dido Elizabeth Belle, a mixed-race girl who was raised in the aristocratic home of the Earl of Mansfield in England. Her story is told against the backdrop of Mansfield's influential legal ruling declaring slavery unlawful in the country.
Jones thought it would be a perfect match for Amma Asante, who directed the gritty 2004 Bafta winner A Way Of Life. "I was a big fan of A Way Of Life and I had been talking to her about other projects. This was a wonderful opportunity to match her with this material," he says. "Amma delved even deeper into the archives [to learn more about Mansfield and Belle]."
The writer/director says: "I was intrigued by it." She adds that the painting's depiction of Belle as a near-equal subject, not a servant, alongside her cousin was crucial. "I thought, 'This is different. This is not of its time.' This painting is such evidence of a life that was lived. You start imagining the story behind the picture.
"The fascinating things are the gender and class issues," Asante adds. "The race issue is the layer on top. It's a story in which Mansfield was making all the choices. So then how do I create the story so she's not a passive actor in her own life? A girl who says, 'As you wish,' and becomes a woman who says, 'As I want.'"
There is plenty in the historical record about Lord Mansfield but far less is known about Belle. "Everything we do know [about her], we used and that's linked together with fiction," says Asante. "I felt freedom as a writer — I didn't tie myself into making this a documentary or a history lesson." (Misan Sagay is the credited writer on the project, both story and screenplay.)
Assante and Jones have been working on the film for three years. It had early development support from Chris Collins at the UK Film Council, later the BFI (the film has since been given BFI Film Fund backing of $2.06m for production support). Sales and financing company Bankside Films also came on board at an early stage. CinemaNX will release in the UK and Bankside has presold to Icon in Australia, Benelux Film Distributors in Benelux, Rialto in Switzerland, Shooting Stars in the Middle East, Bonton in Czech Republic and Jaguar for world airline rights.
The executive producers are Steve Christian, Julie Goldstein, Ivan Dunleavy, Steve Norris, Phil Hunt and Compton Ross. Backers also include Isle of Man Film, Pinewood Films, Head Gear Films and Metrol Technology. The budget is $10.9m, which is ambitious for a period film. "As British films go, it was kind of a smooth-ish road," Asante says with a laugh.
Once financing was secured, the next step was assembling the cast. Gugu Mbatha-Raw (TV's Touch) plays Dido Belle and Sam Reid (Anonymous) plays her love interest John Davinier, with the cast also featuring Sarah Gadon, Tom Wilkinson, Tom Felton, Penelope Wilton, James Norton, Emily Watson, Miranda Richardson and Matthew Goode. Of the cast, Jones says: "They are all supremely talented ‹ there's no weak link."
Finding the perfect actress for the lead was a challenge, however. "We met a lot of girls, it wasn't easy," says Asante. "Whoever was going to play Dido was going to have to play with the other names like Tom Wilkinson. We couldn't have someone who was going to wilt, [we needed] someone who had the charisma and strength and vulnerability and the confidence to play her. We also needed someone who could work through this tough schedule." The film will finish its 36-day shoot in early November. The first half, which was mostly exteriors, took place on the Isle of Man. "Shooting on the Isle of Man was great," says Jones. "I had reservations, especially about a period film. But you can achieve so much there with an open-minded director, production designer and DP. There is also beautiful nature there."
The second half of the shoot took place in London and Oxford, with locations including West Wycombe Park, Syon Park, Osterley House, Bedford Square and the Old Royal Naval College in Greenwich. "They all morph into Kenwood House or Bloomsbury," says Jones (the real Kenwood House in Hampstead, London, was unavailable for shooting due to restoration work). Most heads of department "are less obvious for period films", Jones notes, and they included cinematographer Ben Smithard, production designer Simon Bowles and editor Pia Di Ciaula.
Belle should be completed by late spring and a late 2013 release is likely, with hopes for some awards attention.
The director herself says: "It is only my second film and it's quite a big jump." But she adds that she loves "finally being back behind the camera" and that the wait for her third feature should be shorter. "I will try my damnedest not to leave it so long," she says, with a laugh.