Screen previews the Berlinale's premieres in this year's Panorama section.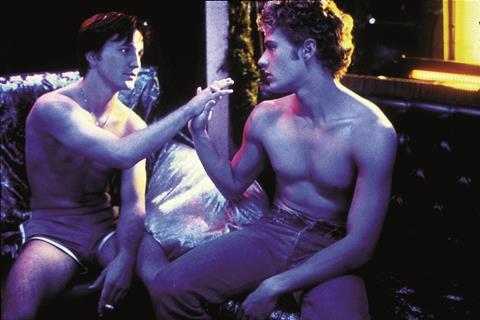 54: The Director's Cut (US)
Dir Mark Christopher
Nearly 17 years after it was released by Miramax, Christopher has recut his disco-era story set against the backdrop of the Studio 54 nightclub in New York. The film, starring Ryan Phillippe and Mike Myers, was a flop in 1998 but this version promises to be more in line with the director's initial vision.
Contact Park Circus, info@parkcircus.com
600 Miles (Mex)
Dir Gabriel Ripstein
Shot around the Arizona-Sonora border and directed by Ripstein — grandson of legendary Mexican producer Alfredo — 600 Miles stars Tim Roth as a veteran ATF agent who becomes embroiled with a young Mexican gun-runner.
Contact NDM, info@mantarraya.com
A Minor Leap Down (Iran-Fr)
Dir Hamed Rajabi
The directorial debut of the co-writer of Majid Barzegar's well-received Parviz, A Minor Leap Down is a drama about a pregnant woman who realises her baby has died but does not tell anyone. Negar Javaherian and Rambod Javan star in the film, which is produced by Barzegar.
Contact Barzegar Production, majidbarzegar@gmail.com
Angelica (US)
Dir Mitchell Lichtenstein
Writer-director Lichtenstein returns to Berlin, after 2009's Happy Tears, with a supernatural period drama set in Victorian England. A young couple (Jena Malone and Ed Stoppard) become embroiled with a charismatic spiritualist (Janet McTeer).
Contact Pierpoline Films, pfilmsinc@mac.com
Bizarre (Fr-US)
Dir Etienne Faure
A young French boy takes refuge in a Brooklyn cabaret bar in this feature by Faure (Chaos, To The Extreme). With Pierre Prieur and Adrian James.
Contact Visit Films, info@visitfilms.com
The Blue Hour (Thai)
Dir Anucha Boonyawatana
Boonyawatana makes his feature debut with the story of a bullied gay boy who is befriended by a mysterious stranger on the internet.
Contact Reel Suspects, info@reelsuspects.com
Butterfly (Arg)
Dir Marco Berger
A film that examines the painful truth of attraction, Butterfly is two stories set in parallel universes about a young man and woman whose actions in one life begin to impact on the other. Ailin Salas and Javier De Pietro star.
Contact Oh My Gomez! Films, info@ohmygomez.com
The Fire (Arg)
Dir Juan Schnitman
This tense drama centres on a couple (Pilar Gamboa and Juan Barberini) who bring $100,000 in cash to pay for an apartment. When the seller does not appear, the couple's relationship is tested.
Contact FiGa Films, contact@figafilms.com
How To Win At Checkers (Every Time) (Thai-US-Indo)
Dir Josh Kim
Kim's directorial debut explores life in Thailand for those who live on the fringes of society. How To Win At Checkers (Every Time) is the story of an orphaned boy and his attempts to prevent his older brother being drafted into the military.
Contact M-Appeal, berlinoffice@m-appeal.com
The Last Summer Of The Rich (Aust)
Dir Peter Kern
Viennese high society is the subject of this satire by prolific actor and director Kern. Amira Casar stars as a leading financier who confronts her family and her past. Kern was last at Berlin in 2001 with his short film Fifty-Fifty.
Contact Nanook Film, mail@nanookfilm.com
Love, Theft And Other Entanglements (Pal)
Dir Muayad Alayan
Shot in black-and-white in Jerusalem and Bethlehem, Love centres around a young Palestinian who steals a car only to find an Israeli soldier imprisoned in the boot.
Contact PalCine Productions, muayad@palcine.net
Necktie Youth (S Africa)
Dir Sibs Shongwe-La Mer
The debut feature from 23-year-old Shongwe-La Mer follows a group of young South Africans growing up in the suburbs of Johannesburg. A 45-minute version of the film was selected for the Locarno Filmmakers Academy and Venice's Final Cut programme in 2014.
Contact Premium Films, kasia.karwan@premium-films.com
Out Of My Hand (US)
Dir Takeshi Fukunaga
New York-based Fukunaga makes his feature debut with the story of a Liberian rubber plantation worker who risks everything to start a new life as a cab driver in New York.
Contact Television Pictures, info@television-pictures.com
Petting Zoo (Ger-Gre-US)
Dir Micah Magee
Journalist and short film-maker Magee makes her feature debut with this drama about a pregnant, single Texas teen who loses her baby and is forced to reappraise her life.
Contact The Match Factory, info@matchfactory.de
Pioneer Heroes (Rus)
Dir Natalia Kudryashova
Director and co-star Kudryashova (Liza's Morning) won the work-in-progress award at Les Arcs European Film Festival in 2014 for Pioneer Heroes (Pionery-Geroi), a tale of Russians who grew up during the collapse of communism and are now unsatisfied thirtysomethings.
Contact Alpha Violet, info@alphaviolet.com
Thanatos, Drunk (Tai)
Dir Chang Tso-chi
Chang, who was at Berlin with Soul Of A Demon in 2012, returns to the festival to unspool Thanatos, Drunk (Zui Sheng Meng Si), a drama about two brothers — one straight, one gay — who are coping with their mother's death.
Contact Swallow Wings Films, gene448@gmail.com
Tough Love (Ger)
Dir Rosa von Praunheim
Von Praunheim was awarded the Berlinale Camera in 2013 for his contribution to German cinema. His latest film is based on the life of former karate champion Andreas Marquardt and his campaign against child abuse.
Contact M-Appeal, berlinoffice@m-appeal.com
Why Me? (Rom-Bul-Hung)
Dir Tudor Giurgiu
This drama is inspired by the real-life story of an idealistic Romanian prosecutor who committed suicide at the age of 29 after becoming embroiled in a politically sensitive corruption case. Producer-director Giurgiu's film was developed at the Berlinale Co-Production Market.
Contact Transilvania Film , florina@transilvaniafilm.ro