EXCLUSIVE: Iran-set film co-stars Taraneh Alidoosti and Shahab Hosseini.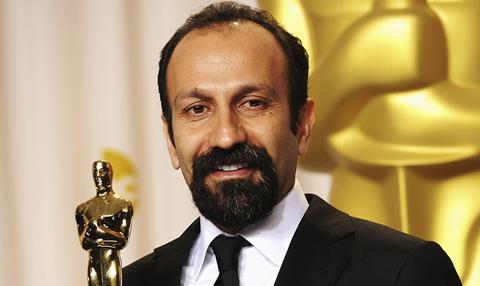 Iranian director Asghar Farhadi's upcoming untitled Farsi-language project – which is in post-production having shot over the winter in Iran – has been luring buyers.
Paris-based Memento Films International (MFI) has sealed deals to Benelux (Cinéart), Switzerland (Frenetic), Italy (Lucky Red), Japan (Doma Inc), South Korea (Challan), Poland (Gutek Films), Portugal (Alambique), Ex-Yugoslavia (Megacom), Israel (Lev Cinema), Greece (Seven Films), Scandinavia (Scanbox) and Middle East (Falcon).
Although the fine details of the project are largely under wraps, Farhadi has revealed that it is a contemporary tale revolving around a couple whose relationship turns violent due to societal pressures.
Long-time Farhadi collaborators Taraneh Alidoosti, who played the titular role in About Elly, and Shahab Hosseini, who appeared in Farhadi's Golden Bear and Oscar-winning A Separation, co-star as the central couple.
MFI also reported pre-sales on writer-director Martin Provost's The Midwife – co-starring Catherine Deneuve, Catherine Frot and Olivier Gourmet – to Benelux (Lumière), Spain (A Contra Corriente), Australia (Palace), Sweden (Folkets Bio), airlines (Skeye Inflight) and, as previously announced, Ascot Elite for German-speaking rights.
The film tells the story of a passionate midwife (Frot) who receives and unexpected visit from her late father's ex-lover Beatrice after many years of silence.
Dominik Moll's News From Planet Mars, which world premieres in Berlin out of competition, has sold to Italy (Good Films), Austria (Thim Films), Switzerland (Praesens), Israel (Lev Cinema), Geece (Seven Films), Turkey (Mor Films), Russia & CIS (Provzglyad), Hungary (Cirko), Brazil (Imovision), Hong Kong (Edko) and Taïwan (AV-Jet).
The first feature in five years from the two-time Palme d'Or nominated director stars Francois Damiens as Philippe Mars, a recently divorced man struggling to cope with a larger-than-life family, demanding boss and occasionally psychotic colleague who decides to move in, sending his life into a further tailspin.
Bruno Dumont's dark comedy Slack Bay, starring Juliette Binoche, Fabrice Luchini and Valeria Bruni Tedeschi, has sold to Italy (Movies Inspired), Benelux (Cineart), Israel (Lev Cinema), Portugal (Leopardo), Greece (Videorama), Turkey (Bir), Baltics (Prior), ex-Yugoslavia (Megacom), Hungary (Mozinet), Czech Republic (Aerofilms), Brazil (Alpha Filmes), Mexico (Mantarraya), Central America (Palmera), South Korea (Main Title), Middle East (Falcon), Poland (Gutek), Romania (Macondo) and airlines (Skeye).
Set in 1910, against the backdrop of a northern French beach resort, the film revolves around two socially opposed families and a series of mysterious disappearances.