The first scores are in, and it's Gianfranco Rosi's documentary about the immigration crisis that leads.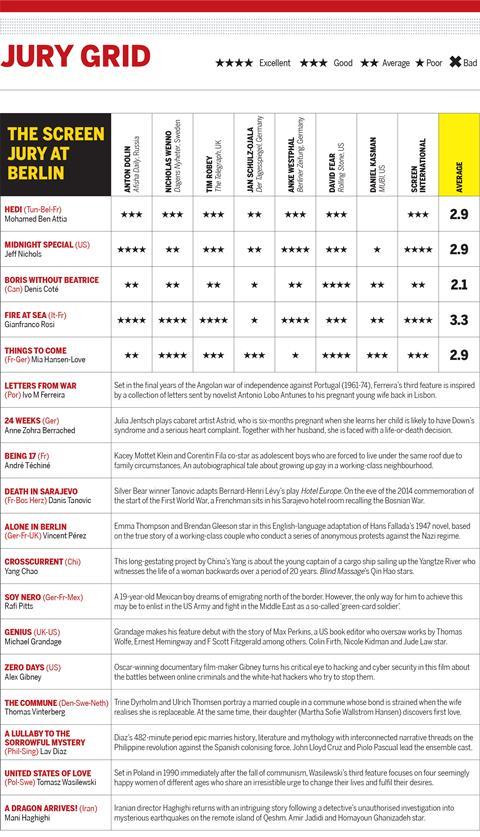 Gianfranco Rosi's Fire At Sea - his documentary about the migrant crisis set on the Mediterranean island of Lampedusa - is the early frontrunner on this year's Berlinale Jury Grid, comprised of scores from Screen's jury of international critics.
The jury awarded it a combined score of 3.3 from a possible 4, a total only beaten at last year's Berlinale by Andrew Haigh's 45 Years and matched by Patricio Guzman's The Pearl Button.
Five of the critics awarded Fire At Sea the maximum four-star rating, while Jan Schulz-Ojala bucked the trend by awarding the film a solitary star.
Screen's review described the film as "shocking and intensely human".
Elsewhere on the grid, there is currently a three-way tie for second place between Mohamed Ben Attia's Hedi, Jeff Nichols' Midnight Special and Mia Hansen-Love's Things To Come, all of which clocked up a respectable 2.9 rating.
However, Hedi could yet pull ahead or fall behind, with one grade yet to be submitted.
Languishing behind in the early running is Denis Cote's Boris Without Beatrice, with a score of 2.1.
Check back tomorrow for the next round of ratings, with Ivo Ferreira's Letters From War, Anne Zohra Berrached's 24 Weeks and Andre Techine's Being 17 all screening for press on Sunday (Feb 14).
Will Fire At Sea retain its crown?