Comedian and film star Steve Coogan plays a crusading lawyer taking on a seemingly unwinnable case in Apartheid era South Africa in Oliver Schmitz's Shepherds And Butchers (sold at EFM by West End Films).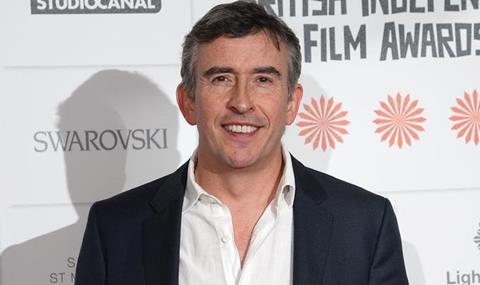 How did you prepare for the role?
I spoke to Albie Sachs, the human rights lawyer who the Pretorian Afrikaan government tried to kill. I spoke to some of the black judges appointed since the fall of Apartheid. I spoke to a prosecuting lawyer who had hanged people. He had acted on behalf of the government as an assistant prosecutor and had switched sides and became a lawyer for the ANC. The hardest thing for me really was that this is the first time I've played a character who is basically a decent man…basically heroic. There were no overarching flaws with the character. Others characters I've played beg the audiences' sympathies.
How did playing the lawyer compare to your roles as real-life figures like Martin Sixsmith in Philomena or Paul Raymond in The Look Of Love?
There was artistic license. It wasn't literally the truth. The script was based on the author's experiences and on testimony from [South Africa's] Truth and Reconciliation Committee. It's an amalgam of real trials that took place but it wasn't as if I was having to echo someone's mannerisms. I didn't have the same responsibility I felt with Martin Sixsmith or Raymond or even Tony Wilson in 24 Hour Party People. With this, it was a case of getting a feel of the kind of person I was playing.
Were you tempted to introduce a little irony or humour to the role?
There wasn't any of that. Fortunately the director Oliver Schmitz was there to help me. A lot of the camerawork is very close-in so there is nowhere to hide. You had to try to be honest. Sometimes, with the characters I play, I find I can make them interesting by having them conceal some ulterior motive but this was about tenacity and focus and somebody who is desperately trying to save someone's life. There is an element of performance in the courtroom but what I liked about the script and the way that Oliver directed is that he avoided melodrama.
The hanging scenes are shocking. Did you visit the locations, the prisons where these events happened?
Yes, we did. That was one of the things I found interesting about the project. It doesn't rely on heavy, polemical arguments. It sometimes literally shows things. There is a certain element that has to be graphic. If you anaesthetise it, you play into the hands of those people who try themselves to anaesthetise the brutal reality of state killing. It requires a different degree of honesty. It needs to be slightly shocking. I was actually concerned about the violence being too gratuitous when I read the script. You're walking a line between concealing things to spare the audience's discomfort or showing enough for it to be disturbing. I think Oliver got it right.
You're playing Stan Laurel opposite John C. Reilly's Oliver Hardy in Jon S. Baird's Stan & Ollie. Is that a passion project for you?
It was written by my sometime co-writer Jeff Pope. It wasn't something I was attached to at all. It was only when it was half way down the development process that my name was brought up by somebody else. It just appealed to me. Jeff's script was poignant, moving and funny. It wasn't obvious. It wasn't a biopic. It wasn't some chronicle of the arcs of their careers and lives. Actually, it is about the autumn of their lives when their careers were a distant memory and their glory days were behind them. It's about friendship really, the complexities of a long-standing friendship.
In my generation, they (Laurel And Hardy films) were shown daily on the BBC in the summer holidays. We watched Laurel And Hardy in our pyjamas, it seemed, endlessly. It became very familiar. They became characters in your living room. That was 40 years after they'd be stars on the big screen. Stan Laurel is interesting. He was a comedy writer so I feel I have some sort of empathy.
George Clooney is making a film version of the Nick Davies book Hack Attack. Is that a project you, as a victim of phone hacking, could become involved in, given that you figure in the book?
I already did a cameo as myself in The Lost Honour Of Christopher Jefferies. I would be reluctant to do that (appear in Hack Attack) because it might make my involvement look cynical in some way. I am still involved in that campaign to reform the press and corrupt practices.
Have you been depressed about the outcome of the Leveson Inquiry (into British press ethics) and the fact that Rebekah Brooks is now back working for Rupert Murdoch?
It's a long, long ongoing process. Even now, it isn't over. I am still very active in Hacked Off. There are more developments each day that are coming…the full story hasn't emerged yet. It was always going to be a tough battle. Yes, of course, when Rebekah Brooks was reappointed, that was definitely Rupert Murdoch thumbing his nose at the whole process. It made a mockery of the government's promise to reform things.
Are there plans to work again with Michael Winterbottom on one of your Trip films to to do another Alan Partridge movie?
There's talk of another Trip but it's not confirmed. There are decisions being made on that quite soon [it has since been confirmed that Sky Atlantic has picked up the show after BBC2 decided not to pick up the third series]. An Alan Partridge movie? I don't think so. Not in the immediate future. We did a TV series, which is starting very shortly, and a documentary film that is going out on Sky Atlantic. Less is more. You're supposed to leave the audience wanting more. I'd never say never but not in the immediate future.
You're playing opposite Paul Rudd in An Ideal Home. Can you say something about that?
It is being shot in New Mexico in May. It's quite a broad comedy. Paul and I play a gay couple. It's about a young child who comes into their life quite unexpectedly. The script is very funny. Having done these dramas, I am looking forward to putting the old comedy trousers back on and getting back in the saddle and doing something funny again. I am really looking forward to that, especially after some of the heavy stuff like Shepherds And Butchers.