EXCLUSIVE: The French sales outfit has also inked deals on A Mighty Team and The Roommates Party.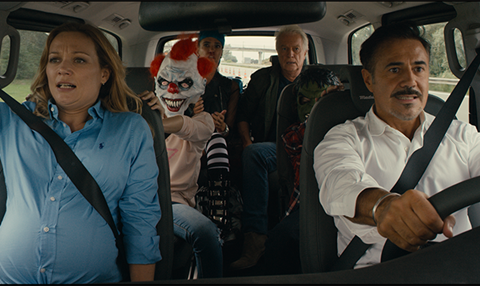 Paris-based Other Angle Pictures is reporting strong sales on its comedy-driven slate, with Full Speed, A Mighty Team and The Roommates Party leading the pack.
Nicolas Benamou's action comedy Full Speed, about a vacation-bound family stuck in a car jammed on top cruise control, has sold to Germany (Wild Bunch), Benelux (Belga), Italy (Lucky Red), Russia (Volga), Hungary (Cinetel), Portugal (Films4U), Czech Republic (Bohemia) and Turkey (Fabula).
Wild Bunch Distribution (WBD) will release the film in France in December.
The Roommates, revolving around a wealthy Parisian forced to share his apartment with less well-off citizens under a new law, has sold to Benelux (O'Brother), Germany (Square One), Italy (Italian International Film), Greece (Tanweer), Portugal (Films4U) and Turkey (Fabula).
Also handled by WDB in France, the film has drawn more than 1 million spectators since its release in December.
Soccer-based comedy A Mighty Team – starring Serial (Bad) Weddings co-star Medi Sadoun as an injured and disgraced footballer opposite Gerard Depardieu as his estranged father – has been acquired for Switzerland (Frenetic), Benelux (Victory) and Turkey (Fabula).
In other deals, Elie Chouraqui's The Origin of Violence has sold to Australia's JIFF and Denis Lavant-starrer Louis-Ferdinand Celine has been acquired by Canada's Axia and Turkey's Fabula.
The company has also secured a number of remake deals. Italy's IIF and Japan's Nikkatsu have picked up remake rights for Babysitting while Sony Pictures has acquired rights for romantic heist comedy Last Diamond, in a deal done in partnership with the Cohen Media Group, which acquired US rights.
Other titles on Other Angles's EFM slate include its debut feature production Don't Tell Her, about a group of friends harbouring secrets about one another's partners, for which it is showing first footage, and John Hay's Lives In Secret which is due to start shooting this March.