X-Men spinoff and Trainspotting sequel to play Out of Competition.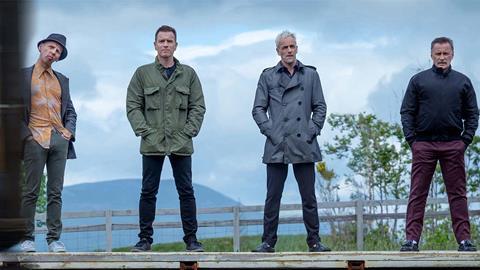 A further 13 films have been invited to screen in the Competition and Berlinale Special section at the 67th edition of the Berlin International Film Festival.
The festival has added commercial clout to its Out Of Competition lineup in the shape of Danny Boyle's T2 Trainspotting and X-Men spinoff Logan.
There are also competition berths for new films by Hong Sangsoo, Thomas Arslan, Volker Schlöndorff, Sabu, Álex de la Iglesia and Josef Hader.
Bend It Like Beckham director Gurinder Chadha's latest, Viceroy's House, will have its world premiere out of competition at the festival. Starring Hugh Bonneville alongside Gillian Anderson, the period drama set in 1947 India depicts Lord Mountbatten, the man charged with handing India back to its people.
Also having its world premiered out of competition will be Álex de la Iglesia's The Bar, a comedy-thriller about a group of strangers who get trapped in a bar. Blanca Suarez of The Skin I Live In fame stars.
Further additions to the competition include The Tin Drum director Volker Schlöndorff's Return To Montauk, starringStellan Skarsgård, and On the Beach at Night Alone, the new film from Korean filmmaker Hong Sangsoo.
The announced films join a competition lineup which already includes new films by Aki Kaurismäki, Oren Moverman, Agnieszka Holland, Andres Veiel, Sebastián Lelio and Sally Potter.
Competition programme additions:
On The Beach At Night Alone (Bamui Haebyun-eoseo Honja) South Korea
Dir. Hong Sangsoo
With Kim Minhee, Seo Younghwa, Jung Jaeyoung, Moon Sungkeun, Kwon Haehyo, Song Seonmi, Ahn Jaehong, Park Yeaju
(World premiere)
The Bar (El Bar) Spain
Dir. Álex de la Iglesia
With Blanca Suárez, Mario Casas, Carmen Machi, Terele Pávez, Secun de la Rosa, Alejandro Awada, Joaquín Climent, Jaime Ordóñez
(World premiere - Out of competition)
Helle Nächte (Bright Nights) Germany / Norway
Dir. Thomas Arslan
With Georg Friedrich, Tristan Göbel, Marie Leuenberger, Hanna Karlberg
(World premiere)
Joaquim Brazil / Portugal
Dir. Marcelo Gomes
With Julio Machado, Isabél Zuaa, Nuno Lopes, Rômulo Braga, Welket Bungué, Karay Rya Pua
(World premiere)
Logan USA
Dir. James Mangold
With Hugh Jackman, Patrick Stewart, Boyd Holbrook, Stephen Merchant, Doris Morgado, Sienna Novikov, Elizabeth Rodriguez
(World premiere - Out of competition)
Mr. Long Japan / Germany / Hong Kong, China / Taiwan
Dir. Sabu
With Chen Chang, Sho Aoyagi, Yiti Yao, Junyin Bai
(World premiere)
Return to Montauk Germany / France / Ireland
Dir. Volker Schlöndorff
With Stellan Skarsgård, Nina Hoss, Susanne Wolff, Niels Arestrup
(World premiere)
T2 Trainspotting United Kingdom
Dir. Danny Boyle
With Ewan McGregor, Robert Carlyle, Jonny Lee Miller, Ewen Bremner
(International premiere - Out of competition)
Viceroy's House India / United Kingdom
Dir. Gurinder Chadha
With Hugh Bonneville, Gillian Anderson, Manish Dayal, Huma Qureshi
(World premiere - Out of competition)
Wilde Maus (Wild Mouse) Austria
Dir. Josef Hader
With Josef Hader, Pia Hierzegger, Georg Friedrich, Jörg Hartmann, Denis Moschitto
(World premiere – First Feature)
Berlinale SpecialGala at the Friedrichstadt-Palast
Es War Einmal In Deutschland… (Bye Bye Germany) Germany / Luxemburg / Belgium
Dir. Sam Garbarski
With Moritz Bleibtreu, Antje Traue, Mark Ivanir, Tim Seyfi, Hans Löw, Anatol Taubman, Pál Mácsai, Vaclav Jakoubek
(World premiere)
Berlinale SpecialGala at the Zoo Palast
In Zeiten Des Abnehmenden Lichts (In Times Of Fading Light) Germany
Dir. Matti Geschonneck
In collaboration with Wolfgang Kohlhaase
With Bruno Ganz, Hildegard Schmahl, Sylvester Groth, Evgenia Dodina, Natalia Belitski, Alexander Fehling, Gabriela Maria Schmeide
(World premiere)
Berlinale Special at Kino International
Masaryk (AProminent Patient) Czech Republic / Slovakia
Dir. Julius Sevcík
With Karel Roden, Hanns Zischler, Arly Jover, Oldrich Kaiser, Dermot Crowley, Milton Welsch, Eva Herzigova
(World premiere)