Dir: Richard Linklater. US. 2011. 99mins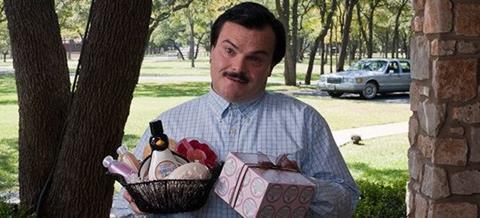 One of the trickiest propositions about making a movie based on a too-bizarre-to-believe true story is that, if not done properly, the viewer fails to fully grasp what's so darkly comic and fascinating that attracted the filmmakers in the first place. That's the nagging problem with Bernie, indie auteur Richard Linklater's new film with his School Of Rock star Jack Black, which is amusing and appealing but only rarely cuts deep enough in its examination of a kindly small-town Texan who murdered the elderly widow he took care of.
Not unlike To Die For, another story about a somewhat vacant protagonist with murderous intentions,
Premiering Thursday night at the Los Angeles Film Festival, Bernie, no matter Black's involvement, is one of Linklater's small-scale films, more akin to Me And Orson Welles than a studio project like The School Of Rock or Bad News Bears. This black comedy could be an appealing upscale attraction, but its region-specific portrait of a modest Texas town may make it a tougher sell in foreign markets, where Black's marquee value might prove more important.
The film, based on a Skip Hollandsworth story in Texas Monthly, charts the rise and fall in the mid-1990s of Bernie Tiede (Black), a friendly, religious assistant funeral director who no one in his town was sure was gay or simply very effeminate. Becoming close friends with Marjorie Nugent (Shirley MacLaine), a cranky and rich recent widow, he forms a bond with her that observers speculate is more than platonic, despite their age difference.
Not unlike To Die For, another story about a somewhat vacant protagonist with murderous intentions, Bernie never tips its hand on precisely how one should feel about Bernie. Held together by eyewitness accounts – some performed by actors, some from actual residents of the small Texas town – the film is structured like an investigation into who Bernie was, and there are no clear-cut answers to that mystery, whether it's about Bernie's sexuality or whether he should have been found guilty for killing Marjorie.
But while this chorus of small-town gossips plays like a charming local-yokel riff on a similar technique used in Reds, Bernie doesn't do enough to illuminate the strangeness or humour of its story. Instead, the movie settles for a superficial gloss that makes light fun of Texan social mores (like cowboy hats and colourful figures of speech) and Bernie's peculiar mannerisms without having much significant to say about the movie's unique milieu or the fundamental difficulty in really knowing anyone, even neighbours you see every day.
This glibness comes through as well in the performances. While Black is less over-the-top than normal, his prissy behaviour, complete with pants pulled above his bellybutton, plays like a collection of gimmicks rather than the building blocks of a real person. Although it's clear that the filmmakers want to leave Bernie opaque so that his actions remain inexplicable, Black doesn't offer any interesting angle on this person's inner life, which makes for frustrating rather than intriguing viewing.
MacLaine's crotchety Marjorie can be tart fun, but it's a one-note character, suggesting little about what interested her in Bernie's ambiguous advances or why she later became more possessive and cruel to him. Of the film's stars, the most problematic performance comes from Matthew McConaughey as a smarmy, ambitious district attorney, which lacks any nuance or range. While most of Bernie is affable and mild-mannered, McConaughey's turn is indicative of the film's understated but noticeable pleasure in its own cleverness, taking for granted that because the true story was filled with ripe characters and odd twists that the movie must therefore as well.
Production companies: Mandalay Vision, Wind Dancer Films
International sales: Hyde Park International, www.hydeparkentertainment.com
Domestic sales: William Morris Endeavor Entertainment, www.wma.com, Cinetic Media, www.cineticmedia.com
Producers: Celine Rattray, Martin Shafer, Liz Glotzer, Matt Williams, David McFadzean, Judd Payne, Dete Meserve, Ginger Sledge, Richard Linklater
Executive producers: Michael Bassick, William T. Conway, Don Fox, Jack Gilardi Jr., Alex Gudim, Ken Hirsh, Johnny Lin, Duncan Montgomery, Darby Parker, Jack Selby
Screenplay: Richard Linklaer & Skip Hollandsworth, based on an article in Texas Monthly by Skip Hollandsworth
Cinematography: Dick Pope
Production designer: Bruce Curtis
Editor: Sandra Adair
Music: Graham Reynolds
Main cast: Jack Black, Shirley MacLaine, Matthew McConaughey, Brady Coleman, Richard Robichaux