Ang Lee's drama will receive its world premiere as a special presentation on October 14 in what will be the first public screening of a narrative film shot in 4K, native 3D and 120 frames per second.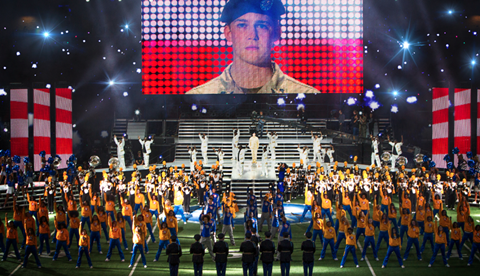 TriStar Pictures and Studio 8 film produced Billy Lynn's Long Halftime Walk in association with LStar Capital, Film4, Bona Film Group and Fosun Media. TriStar will release the film in a range of 2D and 3D formats in North America on November 11.
"Billy Lynn's Long Halftime Walk astonished me, and it moved me deeply – in the grandest way, as a story of America in the years after the invasion of Iraq, and on the most intimate person-to-person wavelength," said New York Film Festival director and selection committee chair Kent Jones.
"Ang Lee has always gone deep into the nuances of the emotions between his characters, and that's exactly what drove him to push cinema technology to new levels. It's all about the faces, the smallest emotional shifts. In every way, Billy Lynn is the work of a master."
Jean-Christophe Castelli adapted the screenplay from Ben Fountain's novel about an Iraq War hero's brief homecoming for a victory tour and stars newcomer Joe Alwyn.
Kristen Stewart, Chris Tucker, Garrett Hedlund, Vin Diesel and Steve Martin round out the key cast, and Marc Platt, Lee, Rhodri Thomas, and Stephen Cornwell produced.
"The New York Film Festival has been such an important event for me both as a New Yorker and a filmmaker, and I am honoured to be represented this year with Billy Lynn," said Lee.
The director's Life Of Pi opened the festival in 2012, as did The Ice Storm in 1997. Crouching Tiger, Hidden Dragon closed the event in 2000.
The 54th New York Film Festival runs from September 30-October 16.