Dir. Scott Cooper. US, 2015, 122 mins.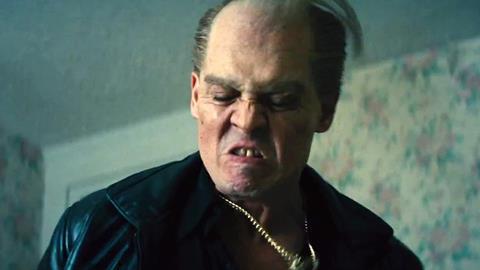 Black Mass turns Aviator shades and a receding hairline into one hell of a scary combo. But Johnny Depp's broodingly psychotic turn as convicted Boston crime lord James 'Whitey' Bulger is not the only tasty thing about Scott Cooper's tale of the unholy alliance between a South Boston Irish mobster and the FBI. An Irish-American Goodfellas shot in locations made familiar by TV series The Wire? Sure, but in the end, despite getting lost around its midpoint in the wilderness that so often besets multi-decade true crime stories, Black Mass shakes off such comparisons to become its own made man.
The kernel of the story is not so much that of a crime boss's rise and fall as a morally weak cop's sneaking admiration of the man he's supposed to be investigating
Based on the book of the same name by Boston Globe reporters Dick Lehr and Gerard O'Neill, whose breaking of the story features briefly at the end of the film, Black Mass will help to relaunch Depp's leaky career boat after a series of clunkers, including Transcendence and Mortdecai. But his assured performance – only occasionally disturbed by something a little too Frankenstein-ish about that prosthetic forehead and ­wig – is aided and abetted by a series of other strong acting turns, not least that of Joel Edgerton as the crime king's fellow 'Southie' resident and FBI contact. A stylishly dark package, in which Masanobu Takayanagi's moody photography and Tom Holkenborg's tense musical soundscapes stand out, will help to grease the slipway when Black Mass is released worldwide on 18 September, soon after its Venice out-of-competition debut.
Framing the action are a series of interrogation-room testimonies by men who turn out to be accomplices of the crime lord at the centre of the story: James 'Whitey' Bulger (Depp), who when we pick up the action years earlier, in 1975, is a small-time mobster whose Winter Hill gang works various old-school rackets in Boston's working-class, predominantly Irish Southside. It's a world of clapboard houses in terraced rows and smoky, low-lit drinking dens, and it's dominated by family bonds and the keen sense of loyalty to a community that unites 'Southies' as diverse as the borderline-psychotic Whitey, his suave, savvy younger brother Billy (Cumberbatch) – a Senator who served for a record 18 years as President of the Massachusetts Senate – and their mutual friend John Connolly (Edgerton), a street kid who is now a local FBI agent.
The neat thing about a script that is cleverer than its episodic structure at first suggests is the way it plays with the dynamics between these three men throughout the course of the film. At first the sheer menacing presence of Whitey, the way he alternately charms, cajoles and threatens his enemies as well as nervous lieutenants like Kevin (Plemons) and Flemmi (Cochrane) – both, incidentally, outstanding in these smaller roles – suggests that Black Mass is essentially a picaresque crime biopic in the Scarface mould.
But as the film proceeds, and Connolly proposes an 'alliance' with Whitey in exchange for information that will help to take down Boston's Italian mafia – a far more powerful crime syndicate at this juncture – it becomes clear that this is as much Edgerton's film as Depp's, and that the kernel of the story is not so much that of a crime boss's rise and fall as a morally weak cop's sneaking admiration of the man he's supposed to be investigating, and misplaced faith in childhood loyalties.
With a lot less screen time, Cumberbatch's character acts as an ambiguous, Machiavellian presence in the background, never allowing himself to be stained by association, yet in his own smooth way as manipulative as his big brother.
Sprawling US crime stories often get bogged down in Florida for some reason, and Black Mass is no exception, with a baggy 1980s segment set against the background of the Sunshine State's Jai Alai betting scams rescued mostly by Peter Sarsgaard's rich turn as a small-time local underworld figure. But in its final third, Black Mass gets its mojo back, especially in two tense consecutive scenes, one featuring Whitey's murder of an airhead prostitute who may or may not have grassed to the police, the next set during an uneasy dinner party in Connolly's house.
It's no coincidence that both of these sequences feature violence to women – the first brutally physical, the second oozing threat – who are bit players in this male world; mothers, wives or hookers. Of the female characters, Dakota Johnson's Lindsey – Whitey's young wife – gets the most screen time, before she disappears from the scene, but even she is only of use to Whitey as the carer and nurturer of the little man he hopes to raise in his image.
Boston is an eloquent backdrop, its waterside wasteland used as a burial ground for mob victims, its cute clapperboard houses employed as handy locations for horrific murders, its tobacco-stained bars with their murky lighting enforcing an alcohol-fuelled male camaraderie whose misguided sense of honour and loyalty provide the dramatic motor of this film about the dark side of American community values.
Production companies: Cross Creek Pictures
Contact: Warner Bros. Pictures
Producers: John Lesher, Brian Oliver, Scott Cooper, Patrick McCormick, Tyler Thompson
Executive producers: Brett Ratner, James Packer, Peter Mallouk, Ray Mallouk, Christopher Woodrow, Brett Granstaff, Gary Granstaff, Phil Hunt, Compton Ross
Screenplay: Mark Mallouk and Jez Butterworth, based on the book by Dick Lehr and Gerard O'Neill
Cinematography: Masanobu Takayanagi
Editor: David Rosenbloom
Production designer: Stefania Cella
Music: Tome Holkenborg
Main cast: Johnny Depp, Joel Edgerton, Dakota Johnson, Benedict Cumberbatch, Rory Cochrane, Jesse Plemons, Kevin Bacon