Screen went along to an exclusive screening of Kylie's concert film at London's sexy new nightspot The Box.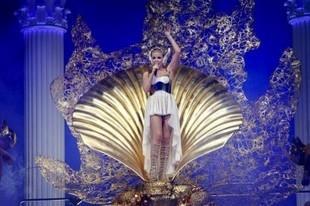 Tickets have just gone on sale in the UK for a series of special screenings of Kylie 3D – Aphrodites Les Folies, which captures Kylie on the last night of her latest world tour at the 02 Arena, in all her 3D glory.
Screen were lucky enough to get a sneak preview this week at an exclusive event held at London's most talked about new club The Box which features erotic live shows and has been frequented by the likes of Prince Harry and Keira Knightley (not together).
Despite being a Monday night (when we are normally curled up in front of another kind of box), the champagne cocktails were flowing and the bling was out on show at the event which also featured girls dressed in gold hotpants, a la Kylie, doing amazing things with a trapeze suspended from the ceiling. Very impressive young ladies.
From the heart shaped stage to the golden chariots and beautifully bronzed men to the glitzy Dolce And Gabbana costumes, the footage looks great. And the pint sized pop princess looks even better in 3D than she does in 2D, thanks to Soho based company Vision 3, who also carried out the 3D work for the latest Pirates Of The Caribbean and motorcycle doc TT3D.
The 3D concert will be shown at selected Odeon and Apollo cinemas in the UK (through Arts Alliance) and on the Sky 3D channel on June 19.