Important session in store for War for The Planet Of The Apes, Valerian.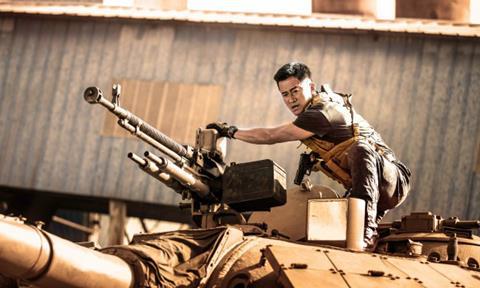 Wu Jing's Chinese action smash Wolf Warriors 2 ignited the Chinese summer box office last weekend and the question heading into the first session of August is can any of the Hollywood contenders overtake it.
The action release bucked the trend of what had been a slow summer in China as it delivered a superb $142.2m in its first four days and the second biggest debut of the year-to-date behind The Fate Of the Furious.
Christopher Nolan's Dunkirk is one of several Hollywood contenders that will challenge the Chinese ruler. It was the top US release last weekend and has reached at $153.2m through Warner Bros Pictures International and $265.8m worldwide. All eyes will be on Latin American holds as the Second World War film enters its second session in the region.
The action drama held well last weekend in the UK and the rest of Europe, where the subject matter holds particular relevance and will be expected to drive solid holds.
Wonder Woman has reached $393.9m and stands at $790.6m worldwide. The next few days could signify a landmark session for DC Entertainment's acclaimed superhero adaptation as it stands on the cusp of $400m internationally and in North America, and $800m worldwide.
Horror sequel Annabelle: Creation gets a jump on the August 11 North American launch and debuts in Italy, where executives will look to emulate the original's $1.2m October 2014 debut in the market. Annabelle finished on $3.2m in the territory and $172.6m internationally overall.
Teen romance Everything, Everything stands at $16.9m and opens this weekend in Japan, as well as Hungary through MGM licensee Forum Film. Will Ferrell and Amy Poehler comedy The House has grossed $7.5m.
Can latest wave of major markets boost Apes' profile?
Fox International's War For The Planet Of The Apes heads into an important weekend when the final cluster of major markets will open. The action tentpole stands at a lacklustre $121m and will need to score above-par debuts in 14 new territories including France, Germany, Brazil, Argentina and Colombia.
2014 predecessor Dawn Of The Planet Of The Apes finished on $502.1m and while War is nowhere near that tally, France and Brazil were strong for the predecessor, generating the third and sixth biggest international grosses on $33.3m and $24.3m, respectively.
Germany was also strong on $18.1m, while Argentina produced $6.2m and Colombia $5.7m. Fox executives will look for ongoing success in the UK, which as of Sunday stood at $20.8m and was Dawn's second biggest market back in 2014 on $55.2m.
However Fox has two aces up its sleeve. China was the 2014 tentpole's biggest territory outside North America on $107.4m and War opens on September 15 there. It arrives on August 15 in South Korea, where Dawn ranked as the fourth biggest international release on $30.6m.
Captain Underpants: The First Epic Movie stands at $15.6m, and Alien: Covenant has reached a disappointing $158.9m. Final Portrait debuts in Germany.
Illumination's Despicable Me 3 will cross $850m worldwide any day now and stands at $848.3m globally and $614.1m internationally through Universal Pictures International.
Tom Cruise 'Dark Universe' vehicle The Mummy stands at $319.8m and will cross $400m worldwide on Thursday. While the milestone will offer some comfort to executives, it will not be enough to mask the anaemic $79.8m North American performance. The current worldwide haul stands at $399.6m.
Sofia Coppola's gothic drama The Beguiled starring Nicole Kidman, Kirsten Dunst, Elle Fanning and Colin Farrell has grossed an early $4.6m.
Charlize Theron action thriller Atomic Blonde opens in Australia and New Zealand and has reached an early $5.9m and counting through Sierra Affinity licensees and Universal. Popstar: Never Stop Never Stopping arrives in Japan. Girls Trip opens in South Africa.
Spider-Man: Homecoming solid with China on the horizon
Sony Pictures Releasing International's Spider-Man: Homecoming stands at $365.3m, a solid tally for the superhero series that puts it within striking distance of the $506.1m attained by The Amazing Spider-Man 2 in 2014. Sony and Marvel executives will be encouraged that there are still China and Japan to come, given that the 2014 film (which starred Andrew Garfield) grossed $94.4m in China and $30.3m in Japan.
Spider-Man 3 from the Sam Raimi and Tobey Maguire era remains the international champion of the series, earning $554.3m, which adjusts for inflation to around $652m in real terms. Turning to something completely different, Edgar Wright's action thriller Baby Driver has reached $50.2m.
Walt Disney Studios Motion Pictures International tentpole Pirates Of The Caribbean: Dead Men Tell No Tales stands at $607.2m. With all territories open and the film slowing down – it grossed $3.5m last weekend – the fifth instalment looks like ending as the second lowest of the series and lags behind the second and third entries by several tens of million.
The first film in 2003 is the lowest of the series and finished on $348.9m, while 2011 release On Stranger Tides remains the one to beat on $804.6m internationally.
Cars 3 has cruised along to $129.2m and opens in France, Switzerland and Taiwan this weekend.
Every weekend important for EuropaCorp's Valerian
Every weekend is critical for EuropaCorp's Valerian And The City Of A Thousand Planets, such has been the negative impact of the film's dismal run in North America, where it has managed $33m through STX.
The sci-fi stood at $29.5m as of last weekend (EuropaCorp is expected to update the international tally on August 4) and arrives in several major markets this session. Beleaguered Luc Besson and his cohorts desperately need more results like last weekend's storming $12.2m French debut and will be hopeful of a decent result for Lionsgate UK in the UK, where Besson releases can perform well in the territory. The director's last film, Lucy, grossed $23.6m in 2014.
The space opera also opens in Mexico (Diamond Films Mexico), Taiwan (Deepjoy), Poland (Kinoswiat), Sweden (Noble Entertainment), Denmark (UIP Denmark), Norway (UIP Norway), and Indonesia (PT Prima Cinema).
Paramount Pictures International's Baywatch stands at $116.5m, and Transformers: The Last Knight has amassed $444.2m.