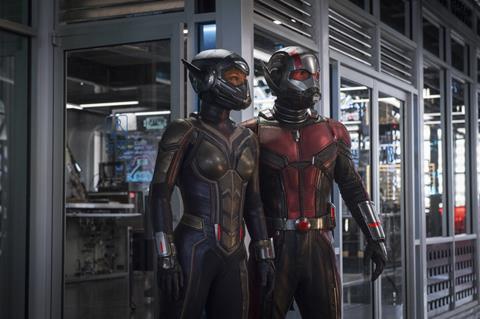 JULY 9 UPDATE: Marvel Studios' Ant-Man And The Wasp ruled Hollywood at the worldwide weekend box office on a confirmed $161.7m launch, while Chinese social realist drama Dying To Survive was the international champion on approximately $146m for the weekend.
Meanwhile Pixar's Incredibles 2 crossed $770m worldwide, Jurassic World: Fallen Kingdom crossed $725m internationally, and Fox Star's Sanju hit $50m worldwide.
WALT DISNEY STUDIOS MOTION PICTURES INTERNATIONAL
UPDATE: Ant-Man And The Wasp announced its intentions with a number one global launch from the studios that delivered a confirmed $85.9m from the first wave of international markets and $161.7m worldwide. Disney distribution executives trumpeted the fact that the 20 Marvel Cinematic Universe films have now combined for more than $17bn worldwide.
The latest superhero sequel, which stars Paul Rudd, Evangeline Lilly, Michael Peña, Michael Douglas and Michelle Pfeiffer, was a knock-out in South Korea where it generated $15.5m, rising to $20.9m including previews, for the second highest launch of the year behind Avengers: Infinity War.
The result was some 78% ahead of the late 2015 launch of Ant-Man and augurs well given that South Korea was the original film's third highest international market.
Ant-Man And The Wasp opened top in nearly every market in the Asia-Pacific region except New Zealand. Indonesia produced $5.7m, Australia produced $4.7m, Taiwan $4.6m, Hong Kong $3.7m, Philippines $3.1m, Malaysia $3m, and Thailand $2.9m.
Latin America generated roughly $17m, with Mexico producing $6.8m and Brazil $3.5m. The film opened in World Cup hosts Russia on $5.4m.
Pixar's Incredibles 2 used a $64.3m global haul to boost the tally to $772.3m, as a further $35.9m from international markets resulted in a $268.5m running total. The animation opened in France on $10.1m with previews for Pixar's second highest debut behind Finding Nemo.
China remains the lead market on $48.4m with the UK to come this week. Mexico has produced $33.9m, Australia $24.5m, Brazil $15.5m, Russia $14.6m, Argentina $10.2m, Colombia $9.6m, Venezuela $8.4m, and Indonesia $8m.
Lucasfilm's Solo: A Star Wars Story added $3.5m for $168.9m and has reached $379.8m globally, with the UK on $25.6m and China on $16.6m.
CHINA UPDATE
The social realist drama Dying To Survive starring Xu Zheng (and directed by solo feature debutant Wen Muye) illustrated the might of Chinese box office as it ruled the international roost and finished just behind the worldwide gross of Ant-Man And The Wasp, earning $146m in China over three days and settling on $191.9m.
UNIVERSAL PICTURES INTERNATIONAL
UPDATE: Behemoth Jurassic World: Fallen Kingdom crossed $1bn worldwide on Thursday and added $57.4m at the weekend for $1.061bn. International markets generated $28.8m for $727.6m with China the top holdover on $5.4m for $251.1m after four weekends.
In the third weekend Mexico produced $2.9m for $29.3m, Australia $2.8m for $19.6m, and Brazil $1.4m for $15.9m. The UK delivered $1.7m for $48.8m after five, while Germany and France produced $1.6m for $24.3m and $1.5m for $25.6m after the same amount of time.
The First Purge, Blumhouse's latest entry in the horror franchise, launched on $11.8m from 26 territories led by a number one debut in the UK on $2.4m, number two in France on $2.3m, number one in Germany on $1.6m, number two in Spain on $1.1m, number four in Argentina on $907,000, and number one in Italy on $638,000.
FOX INTERNATIONAL
UPDATE: Fox Star's Bollywood hit Sanju brought in a further $11.8m for $50.9m, adding $11.5m in India for $49.7m after two weekends. The UK has delivered $1.2m. Deadpool 2 grossed $1.8m for $412.8m, and rom-com Love, Simon added $818,597 for $23.8m.
WARNER BROS PICTURES INTERNATIONAL
UPDATE: Ocean's 8 grossed $7.8m from 62 markets as the running total climbed to $110.9m and worldwide reached $237.5m. In the third session the UK delivered $1.1m for $11.3m, and Germany $808,000 for $4.8m.
The crime caper opened in Spain in third place on $795,000, and stands at $12.3m after five in Australia, $5.6m after four in France, and $5.7m in Russia after three.
Comedy Tag added $2.6m from 45 markets for $12.2m, grossing $483,000 in the second weekend in Russia for $2m, and $330,000 in the UK for $1.4m after the same amount of time. It opened in Italy at number four on $168,000.
South Korean hit The Witch generated $4.1m for second place and stands at $13.8m after two weekends. The action release is a Warner Bros Pictures presentation of a Gold Moon Film production and a Peppermint & Company co-production.
LIONSGATE INTERNATIONAL
UPDATE: Sicario: Day Of The Soldado added $3.9m from 71 Lionsgate markets to propel the early tally to $15.8m. The drugs cartel thriller stands at $1.9m in the UK after two weeks, followed by $1.7m in both Mexico and Australia. The thriller has reached $1.6m in South Korea and overtaken the $1.1m final gross of the 2015 original.
STX INTERNATIONAL
UPDATE: Shailene Woodley and Sam Clafin survival drama Adrift grossed $2.4m from 42 markets for $8.8m, opening in France at number eight on $422,000.
SONY PICTURES RELEASING INTERNATIONAL
UPDATE: Hotel Transylvania 3: Summer Vacation played well in the Australia school holidays, adding $2.2m for $5.7m after two sessions. International roll-out continues this week in Brazil, Mexico, Russia, and Spain.
PARAMOUNT PICTURES INTERNATIONAL
A Quiet Place grossed $662,000 from seven markets to reach $143.9m. The final market will be Japan on September 28.